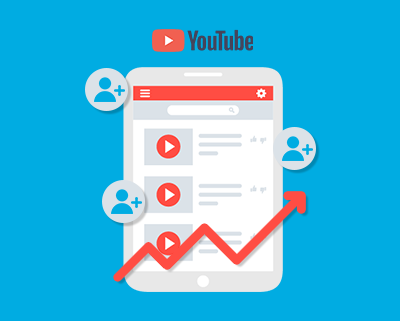 Getting 100's of Followers on Youtube in 2019
Been thinking of starting your own Youtube channel, have you?
No idea where to start?
Then you've come to the right place.
What if I tell you that you, on your own, with just the information in this article, can in fact get thousands of followers on Youtube?
Why Youtube?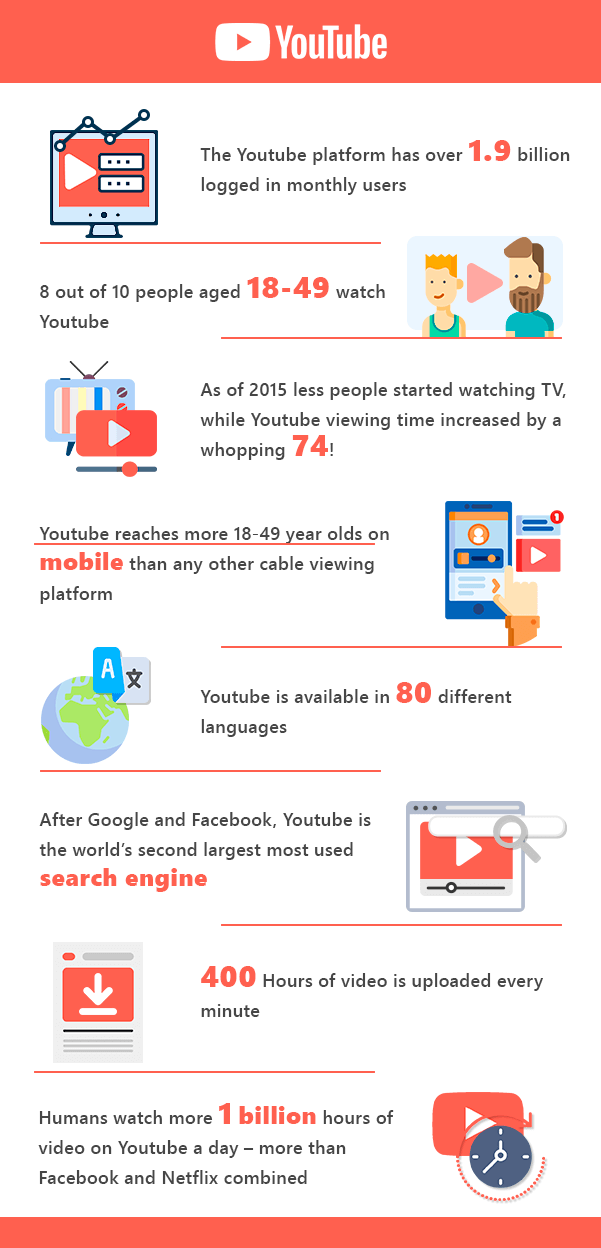 Literally everybody who's anybody is watching Youtube these days.
Youtube is huge and there are also enormous amounts of companies that embrace Youtube and use it as their primary video marketing platform.
Youtube is the second largest search system in the world, after Google and the reason for this is quite simple: Video marketing is THE way to go.
There has been a huge explosion in social media marketing during the last decade, but the influence that video has had on all forms of social media has rocketed.
Ignoring Youtube as being the prime video marketing platform for any business or entrepreneur is an unforgivable mistake.
Video marketing via Youtube is easier than you might think
You just need to know which steps to follow and which channels to use to get to the top.
Let's compare content creation for Google vs Youtube.
SEO promotion on Google consists of On-page and Off-page promotional methods. For some people, it might sound like rocket science but fortunately, it's not.
In the case of on-page SEO, you need to organize the entire process, starting with writers, designers, web developers, SEO specialists, content managers, etc. It's important to check all the parts of the process because there are a lot of bugs, errors, misunderstandings, competition and so on.
Creating useful high-quality content takes a lot of time, knowledge and resources.
Link building and off-page SEO demands extensive knowledge in order for it to function properly.
There are numerous techniques for creating backlinks, e.g. you could make use of broken link building, guest posting, list resources, brand awareness, forums, comments, social networks, skyscraper techniques, and various other processes of outreach.
These are the techniques that SEO specialists spend years learning. The correct combination of On-page and Off-page SEO allows you to achieve high results.
Where does Youtube come in?
Youtube promotion is significantly simpler than Google promotion.
First of all you don't need to provide link building, however some bloggers proclaim that link building works well for Youtube as well. I beg to differ and in my opinion, it's a total waste of time. I do, do link building for Youtube, but only when done in conjunction with Google promotion. I normally add my video content to my blog and the same goes for my guest posting.
Does it work?
Yes, it does work.
Would you like to know how to use simple yet effective techniques that give you a lot of subscribers, views, likes and comments?
It's Easy
Research Topics before Starting
Please don't hold me to this statistic, but the percentage of Youtube channels that fail are in the area of 99%. Youtube lists only the successful channels in their search results and this includes the recommended video listing on the right hand side too.
What often happens is that many newbies only see what they want to see, e.g. how one straightforward video was watched over a million times. They then re-create the exact same video, which subsequently fails with a mediocre amount of views, and then want to know why.
It might sound like good practice but I assure you good practice is all it is. Without extensive knowledge and skills, it will not work.
Before creating any videos, learn from your competitors. Watch their videos. Subscribe to their channels. It will ultimately allow you to achieve greater results in the form of numerous followers, likes, subscribers, views, comments, etc.
How to start
First of all, choose a topic that you know like the back of your hand. Your niche.
For example, I shoot videos about SEO and other related topics related to SEO like keyword research, copywriting, creating quality content, technical website audits, etc. and yes, I know these topics very well.
It makes me smile if a guy asks me how much I charge "to create a channel for kids, shoot awesome videos and promote it" so that he can sit back afterwards and make all the money. In this case, he found a few successful kids channels with a hundred million subscribers and decided he wanted to do the same.
I like kids and have one of my own, but that doesn't mean I know anything about what videos they like to watch or which kinds of channels they like to subscribe to. Professional educators will be in a much better position to design a channel just for kids. If you are in this position and have the necessary knowledge and skills, I suggest you do it. Don't assume that someone will create a concept and a Youtube channel from scratch for you – i.e. "the whole package". Do your own research. It will put you in a much better position.
One thing that I really love about Youtube, is that there is no extended categories page. People can use only the search box. It makes it so much easier to use. You simply type the related keywords for your niche into the Youtube search box and check out YouTube's suggestions. What could be easier?

If you're clever, try to use different variants with a combination of two or three keywords. See how your results change every time you change your keywords. Analyze ALL the content and results intensely. These are your competitors. Analyze their content, their video length, relevance to your keywords, the freshness of their content and compare it with their number of views, positive comments, likes, etc.
At first glance it might look simple, but I promise you there is a lot of behind-the-scenes work that you don't see while analysing, because it doesn't give you the full picture at all. It doesn't mean that videos that already have a lot of views, achieved those views from searching or Youtube recommended videos list only. That is not what I mean.
Let me explain
Successful channels have loyal audiences and they also have other sources of traffic. If the extended data interests you - use professional tools like Ahrefs, for example to analyse it and understand it fully.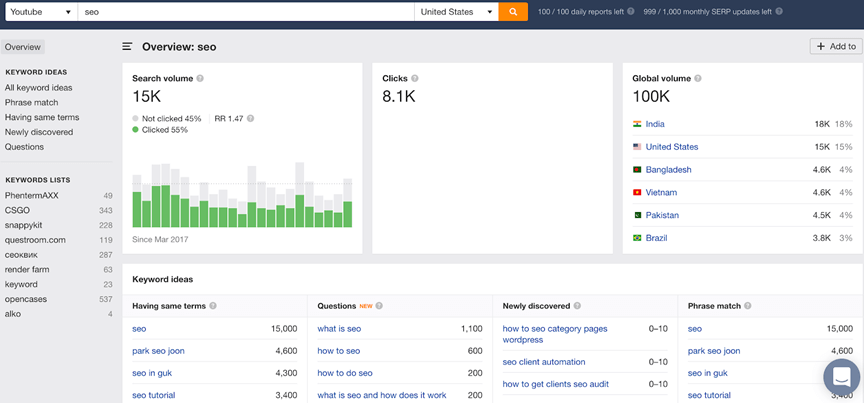 Ahrefs supply a plethora of extremely useful metrics - keywords volume, keywords level of competition, suggested keyword ideas, "phrase matches" and so on. It is probably one of the best tools I have ever used.
Once you've chosen the right keywords for your niche, jump straight into creating high quality and relevant content.
How do you create something new?
It's really simple. Watch videos by your successful competitors and analyze both their strong and weak sides. Thereafter, write your own scenario and think of ways of how you can attract people to watch your videos.
Many YouTubers try to recreate videos, similar to their successful competitors, but as I have said before, it doesn't work. Viewers have already watched these videos once. They are not interested in seeing the same video a second time around. Find your own style, your own concept.
Dale Carnegie said that all people are different, that there is no-one like you.
Stand out from the crowd.
Create something new and unique for your audience, something that they can see only on your channel.
Which Style of Video
There are various different styles of videos: learning videos, attractive arty videos, news videos, tutorials and so on. Choose the best video format for you and for your audience. I usually use learning style videos because my audience wants to learn about SEO as well as other internet marketing tools. Your video content should consider what your audience's needs are and also answer their questions.
Write the structure for your video, using keywords and answering questions that have been asked elsewhere, but not answered.
Create logical chains, otherwise because your followers might lose interest in watching your videos if you don't have a well laid out structure to your content.
Your Video Equipment
I have five pieces of equipment for doing this: a green wall, a few lamps and lights, a good microphone, a tripod and a camera.
If it sounds too expensive for you or is way over your budget, then exclude the camera. Many YouTubers don't use expensive cameras - they shoot all their videos with their smartphones, as most modern smartphones include a high-quality camera as well as a standard camera.
Set up all your equipment first.
Next, comes the most exciting part.
I get goose bumps just thinking about it!
Your preparation is done! Congratulate yourself!
Types of Promotion
Brand Promotion
Many newbies create videos similar to those of famous brands because they think that YouTube will show their videos as suggested videos. The main problem is that people search for brand keywords, they are not interested in wannabees, so if you're a new channel, don't try this strategy. Famous brands have spent many years creating brand awareness. Skip brand promotion until you have a lot of subscribers.
Search Promotion
The second type of promotion is search promotion, which is suitable for any type of Youtube channel. Nowadays, I have come to really love my competitors because they ignore search promotion, which leaves this field wide open for me.
Huge companies with strong brand recognition create a lot of videos for their audience, thus they ignore search promotion as they know how difficult it is to be successful everywhere. The point I want to highlight is that this type of promotion is ignored by many YouTube channels.
Fortunately.
Shoot your video
Next step would be to prepare to shoot your video. Warm up your voice and your body - repeat your script out loud a few times. Try to stick to the exact written script for your video. Listen for your mistakes and correct them first, though.
I love analyzing my competitors and what I usually see is that they have many high-quality videos, but only a few hundred views per video on YouTube. This also means that creating high-quality videos is expensive, not to mention time-consuming as well.
Creating a video costs approximately $100 and takes up to 10 hours. This includes the whole process of content creation, preparation, setup, recording, editing and artwork design. Ultimately, time is money. Once you have created 100 videos, it means that you have spent $10K and it has taken up 1,000 hours of your time. On average, 100 viewers watch any one video.
This is not a good strategy to follow at all and I suggest you consider another.
Top Tip
In order to get to the top quicker, simply do the following.
Create only 10 high-quality videos - it will cost around $1K and will take up approximately 100 hours of your time. Thereafter spend $3K on Google Ads. You will receive 10,000 video views, because on average, one click costs $0,3). That will save you effectively $6K and 900 hours of work.
Irrespective of whether you have 10 videos with 10,000 views or 100 videos with 10,000 views, it doesn't matter as the results will be exactly the same. Shoot less videos and promote them more.
The best part is that if one of your videos is watched more than other videos, Youtube ranks this video in its organic search results. As for my channel stats, YouTube search has 32,5% of all traffic on my channel, YouTube advertising 17,5% - thus it means I received 1,85 times more views by using this strategy.
I saved thousands of dollars and hundreds of man hours. You can too.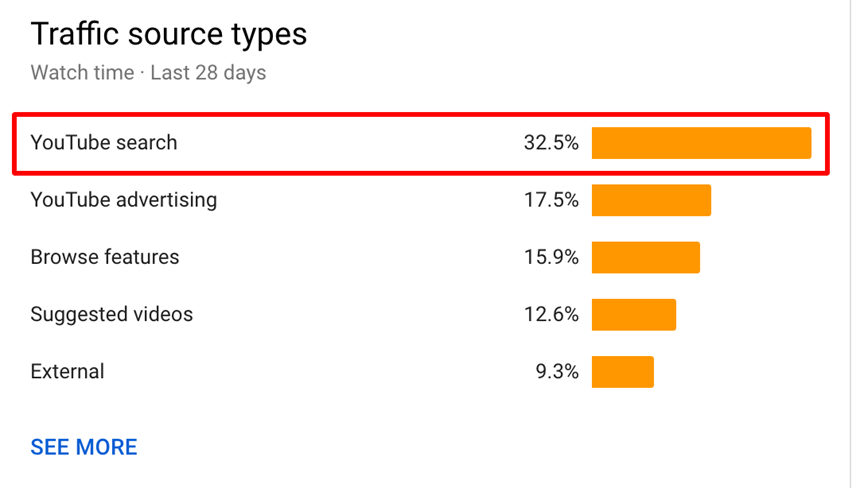 YouTube ranks videos if they contain positive metrics, e.g. likes, comments, user retention, traffic from other places, views from existing channel subscribers, etc. Viewers are often lazy to post additional engagement, so you need to provoke them. Ask your viewers to subscribe and to like your videos. Also ask them to comment. During my videos, I also promise to reply to their questions or help them with their SEO strategy. I always ask them their opinion about important questions too. People really love it if you're interested in their opinions.
If at first you don't have an active, outspoken audience or enough subscribers, ask your friends and family or colleagues to post comments and likes. After submitting a new video, my colleagues have often written some interesting comments in order to create discussion. There is nothing wrong with that. Luckily today, they don't need to comment because my subscribers and haters alike, are actively writing a lot of comments for my videos.
Haters help highlight that all your comments are actually real because people don't trust comments if there are no bad comments in between the good ones.
Neil Patel's Strategy
A good strategy is by Neil Patel. He usually replies to all negative comments with additional questions to his audience in order to create more engagement from the comments of his videos.
Another Excellent Strategy
I often use another technique as well.
I ask hater's opinions about my other videos by posting a link to it in the answer of their comment. That way, people watch my videos more and write new comments. If have found it works brilliantly.
The biggest mistake you could make is to not reply to people's comments. Ignore your audience once and they will ignore you the second time around. If you have a huge audience and you can't physically reply to all comments - delegate this job to a member of your team.
Neil Patel has +300 thousand subscribers. Do you think he has time to reply all comments? He doesn't work alone, his teammates take care of his comments.
Okay, comments are done.
Link to More
Another important thing to do - at the end of your video suggest some of your other videos with links - it's important for viewers to spend more time on your channel. As an example, have you seen the movie "The Wolf of Wall Street" with Leonardo DiCaprio? In one episode, an experienced broker tells him that if he sold shares to a person and the shares plummeted, if asked about it later, he could reply - "it was unpredictable".
But on the other hand if you sold shares and the value skyrocketed - you would keep your customer for a longer time by explaining to him that he got this profit because of you - and he'll earn more with you.
If your viewers like your videos, subtly tell them that they like your videos because of you - and they need to watch more of your videos!
Video Done and Dusted
Okay so you have recorded your video and edited it and you are happy with it.
After submitting your video you have completed only 50% of your task.
Now you need to start promoting your video. Don't make the same mistakes as many other channels do. After creating a video, you need to promote it in order to get subscribers and views because viewers don't just fall out of the sky and videos don't start promoting themselves.
Many YouTubers create a lot of quality videos and don't promote them then wonder why they don't get any views. Without promotion it would be impossible for people to find your videos on YouTube.
I have had many requests from newbies, asking me to figure out why YouTube don't rank them.
Digging Deeper
Would you go to the cinema blindly? Without having an inkling of the movie you are about to watch? I made the same mistake years ago and the movie was terrible. I walked out after 30 minutes. I then decided to watch trailers and read some online reviews before going to see a new movie.
Movie makers spend money not only for producing movies, but they also spend millions for promoting movies. If someone were to create the best movie of all time without promotion, who would know or care? Who would watch it? Nobody.
People wouldn't know that the best movie had been created because nobody has told them. It's exactly the same for YouTube. Big YouTube channels with many subscribers can get away with not promoting all their videos because their already huge audience will watch these videos and promote the videos for them. Also be aware that they have spent vast amounts of money, lots of time and effort to gain many followers.
It's your turn now!
Active Youtube Promotion and Ranking Factors
Youtube promotion is a lot easier than website promotion. The most difficult part of website promotion is link building. Luckily, you don't need link building for YouTube because YouTube doesn't care about external links. The most important ranking factors for YouTube are audience retention and views.
Audience retention depends on the quality of your videos, as I have mentioned above.
How do you get related traffic to your video and who will watch your video?
The best way is Google Ads in order to buy related traffic.
It really is that simple. However, one thing you must know is that it doesn't work for SEO website promotion, but it does work for YouTube. Simply go to the Google Ads platform and run the campaign.
How much you spend for your video promotion is up to you, e.g. I usually spend $30-$100 per video I promote. If I see that the topic is extremely competitive I often spend more than $100, but for simple videos, $30 is enough.
If you subscribe to Ahrefs.com, you can check the level of competition for each of your YouTube keywords, which is extremely useful. If you don't have Ahrefs, just check the level of competition for the Google Ads platform.
Facebook Promotion
Another way of video promotion is by using Facebook. You can use other social networks as well, but it depends on your audience, e.g. I use Facebook because most of my audience is there. Set up paid ads in your social networks in order to get related traffic.
If you have an additional 5,000-10,000 views it helps to rank your video on YouTube search results. YouTube checks if your video is popular and has a better user retention time than your competitors - this means you deserve to get the organic ranking.
How do you check this?
When submitting your video you need to add video tags that help YouTube to understand the keywords of your video. YouTube also reads your title, description and the transcription of your video. If you don't want to check your positions manually, set up Google Chrome applications - Tube Buddy or Vidiq, in order to save you some time.
These useful applications highlight your ranking tags when you open your video. I also always check my videos' indicators because it gives me a better understanding of what I need to change the next time. It really is a pity that you cannot edit videos on Youtube after submitting them, isn't it?
Your Haters
Don't you just love your haters? You can't hide from your haters, even if you create the most stunning and in your opinion, best videos. All people are different and fortunately we all have our own opinions which coincide with our different levels of education.
From my experience you can change the opinion of approximately 30% of your haters. I'll tell you how.
A good strategy is to reply to their comments politely and firstly ask their opinion on how to fix it the next time. What's really weird is that some of them change their opinions immediately! Moreover, the next time they can become your fans and you won't need to fix anything. This is my good-mood strategy.
I'm in a good mood now, so I'm going to provide you with an additional bonus for this article as well.
Good Mood Top Tip
If you remember correctly, earlier on in the article, I told you about keyword searching that helps you to find interesting topics and ideas for your videos. Okay, so start watching other videos with a lot of views. These videos received these views because of YouTube search or external traffic from other websites and social networks.
The bonus tip is: - If you create related and relevant videos with EXACTLY the same tags, similar titles and descriptions, YouTube might list your video in the right hand column of these videos, as "suggested videos".
Isn't this really cool?
People don't only watch one video. They keep watching and watching, needing more videos about their related topics, don't they?
Well, how do you find these videos?
Type your keywords into the YouTube search bar. If you see a video with more than a 100,000 views - Bingo! Watch and analyze this video critically, all the while asking yourself "Can I create a video that gives additional value over and above this video?" Or "what can I do better, while keeping the same topic and keywords?"
Brian Dean uses this strategy. He creates his own videos, adding more value, better content and longer length. For example, say you watch a video that is 10 minutes in length and it's related to your topic, thereafter create a related video that is 12 minutes in length. Capice?
Conclusion
YouTube promotion is not only the creation of high-quality videos but also the strategy involved in promoting them effectively.
Many YouTubers fail because they try to copy other channel's styles and content exactly.
Have you read mediocre copies of the books like "Harry Potter" by J.K Rowling or "The Jacket" by Jack London, written by other not-so-famous authors? Have you watched low-budget replicas of the movies "Matrix" or "Titanic"? I didn't think so. Nobody is interested in watching or reading low level stuff.
Create your own style and combine your style with related YouTube keywords and YouTube suggestions. After releasing a new video, promote it. Without promotion, people won't know that your video exists.
Remember: Be different and the best you can be, all the while standing out from the crowd.
Lucas Martley
06.06.2019
12606
6
179