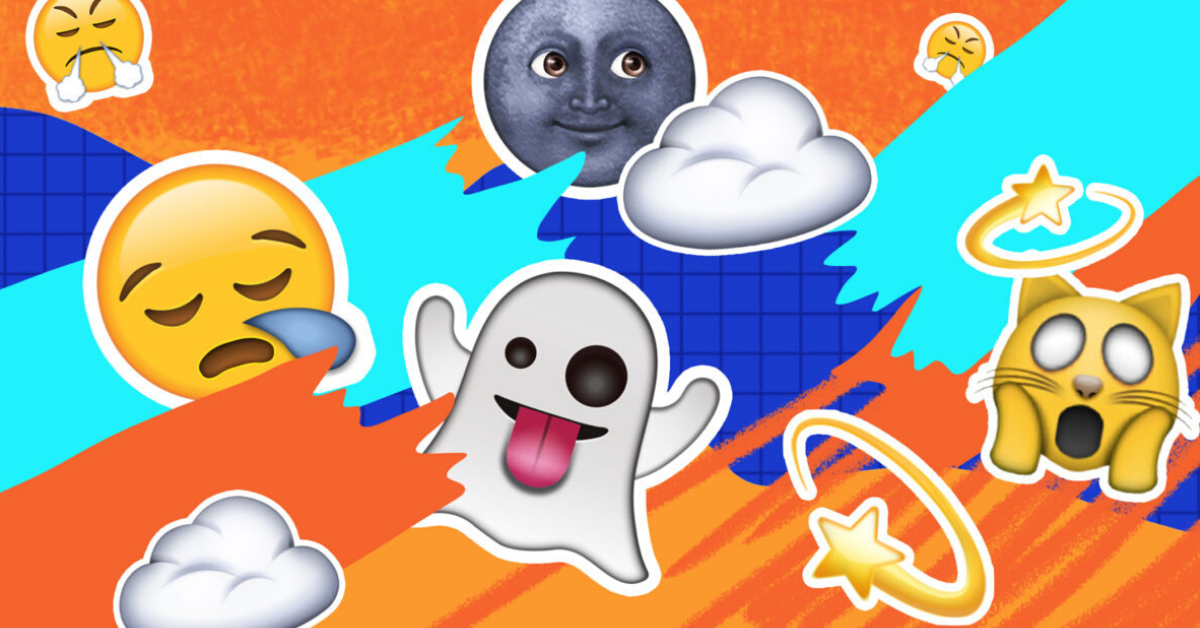 Emoji Phenomenon: smiling and rising ROMI
Emoji has conquered the world. They are created, adapted, and used for marketing purposes in all areas: from FMCG to politics. But do we know all we need to know about them? Why are they popular? Let's figure out!
Emoji is a symbol or icon used to express emotion in communication. Should brands use them? Of course. Users are waiting for personalized communication, and emojis give variability in the ways and approaches to conversation.
Emoji Language Rules
Today, the majority of Internet audiences are millennials (people born from 1981 to 2000). They often unknowingly but successfully block advertisements and slogans. Brands are trying to find the cherished ingredient in communication with the millennials. And found it in emoji. However, it is not enough just to put an emoticon on the message. As with any language, emoji has its own rules. We have chosen the key ones.
1. Do not get carried away.
Surely you heard about the sensational Chevrolet case. Marketers decided to present the 2016 model with the help of emoji. The concept seems to be logical: a new model, a young audience, its language ... Here is a press release from the company. How do you like it?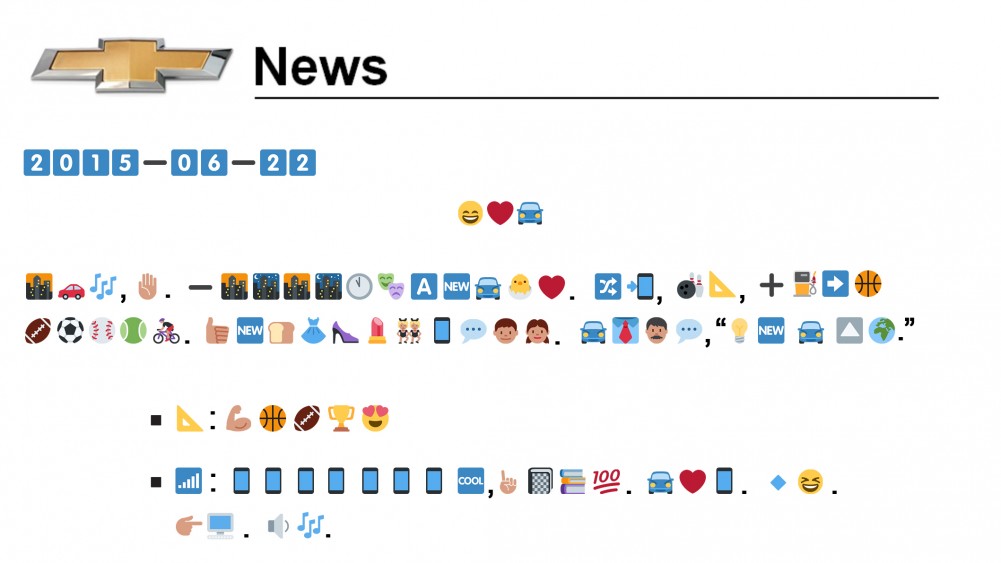 2. Do not complicate.
Messages in which it is not clear what and why is advertised are common. In the case of emoji, falling into the trap of misunderstanding is easy. This happened with Juicy Fruit: the company wanted to know how well subscribers speak emoji. But why is the guitar here?
3. Do not overdo it.
What could be worse than excessive and incomprehensible use of emoji? That's right, emojis that are out of place. Do not put emoticons on the principle of "if only". Otherwise, it may turn out like the campaign of Diesel.
4. Do not confuse.
When using emojis, be sure of the meaning of the icon. What do you think this means? Someone will say - "give me five," someone - "I beg." In fact, this is a greeting or gratitude. The homeland of emoji is Japan, and it has its own characteristics in gestures and communication.
Emoji Grammar
Any language - even one consisting of yellow faces - must obey some laws: the speakers intuitively sense them. If the emoji language is "foreign" for you, and the subscribers want free communication, cognitive scientists will save us. They pretty convincingly systematized all the principles.
There are two options for using emoji: in combination with words or without words at all. Sometimes several pictures form semantic clusters, which may well replace the traditional sentence. Statements will be understandable in three cases:
These are several identical emojis. Such combinations are needed to enhance the effect. You probably saw when people put three laughing faces in a row.
Multiple emojis with similar meaning. A smile, a heart, a friendly hand - there's nothing complicated here to understand.
A little story in emoji. This is more interesting, although less common. Usually, in such rebuses, the simplest phrases or catchphrases are encrypted. I met two-emoticon stories on social networks: for example, a little man + a rainy cloud ("I'm wet") or a heart + shoes ("I want to update my wardrobe").
What about conversion?
I noticed from my own experience that long sheets of text without emoji are perceived worse than with them. Perhaps this is because symbols have another vital function as a marker. Information without structuring is poorly received. With the help of color pictures, it's just easy to divide a long post into sections.
Quintly, for example, analyzed 5.4 million Instagram business account posts over half a year: from January to July.
In this sample, 52% of the posts were utterly emoji-free. And, perhaps, in vain, because the authors found a positive correlation between the number of funny emoticons and user interactions. Among the small accounts, posts with more than 10 emoticons were dominated, in larger ones, from 4 to 10 emoticons. But posts without emoji always got the least interaction.
Facebook is also worth using emojis - at least this conclusion was reached on the Agorapulse automation service when they compared posts with emoticons and without on their own accounts. The sample is smaller: two accounts (58 and 8 thousand subscribers), 26 posts with emoji, and 36 posts without them.
Although this is not just a review, but an experiment with fixed variables: the audience is the same, the emoticon was always put at the beginning of the post, we looked at the results in a week. We found that with emoji, engagement and clicks increased by 20% and higher.
Emoji Cases from International Brands
Share a coke
Coca-Cola was the first who made it. The brand used its own emoticon - a pair of recognizable glass bottles. An emoji appears every time people tweet with the hashtag #ShareaCoke. On the first day of the campaign, the hashtag was used over 170,500 times.
Educational project from General Electric
In 2014, General Electric launched the EmojiScience campaign. Its goal is to attract the attention of a young audience to the brand. Users were invited to go to a specially created site, send any emoji, and watch a scientific two-minute video with emoticons. The central role in the video was played by engineer Bill Nye.
Here, for example, is a video in which an emoji explains how a person dreams.

Today, at Emojiscience.com, anyone who clicks on emoji will find information about a natural phenomenon, learn about a memorable event in world history, look at experience ... We clicked on a rocket and saw a post about a new spacecraft flying to Mars in the official GE account on Twitter.
Lucas Martley
20.12.2019
4351
0
0