How to Use Instagram Carousel Posts for Your Brand Promotion?
If you want to strengthen your brand, going to a social medium with over 1 billion users is probably smart. Yes, we're talking about Instagram.
This photo-sharing app has already attracted 25 million businesses with its rich tools that help to communicate your brand's values and aesthetics. Videos, photos, GIFs, stickers, filters, masks, polls, and other features make it easy to speak to your audience through visual content.
In this post, we'll see how to grow your brand on Instagram with an example of such a feature -- the carousel post format.
What is a Carousel Post on Instagram?
A carousel post is basically the one that has more than one image in it. Instagram allows you to post up to 10 images in a carousel. The users can switch between the images by swiping left and right.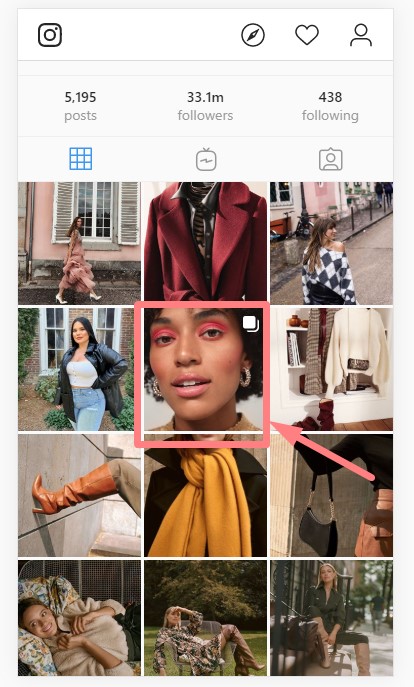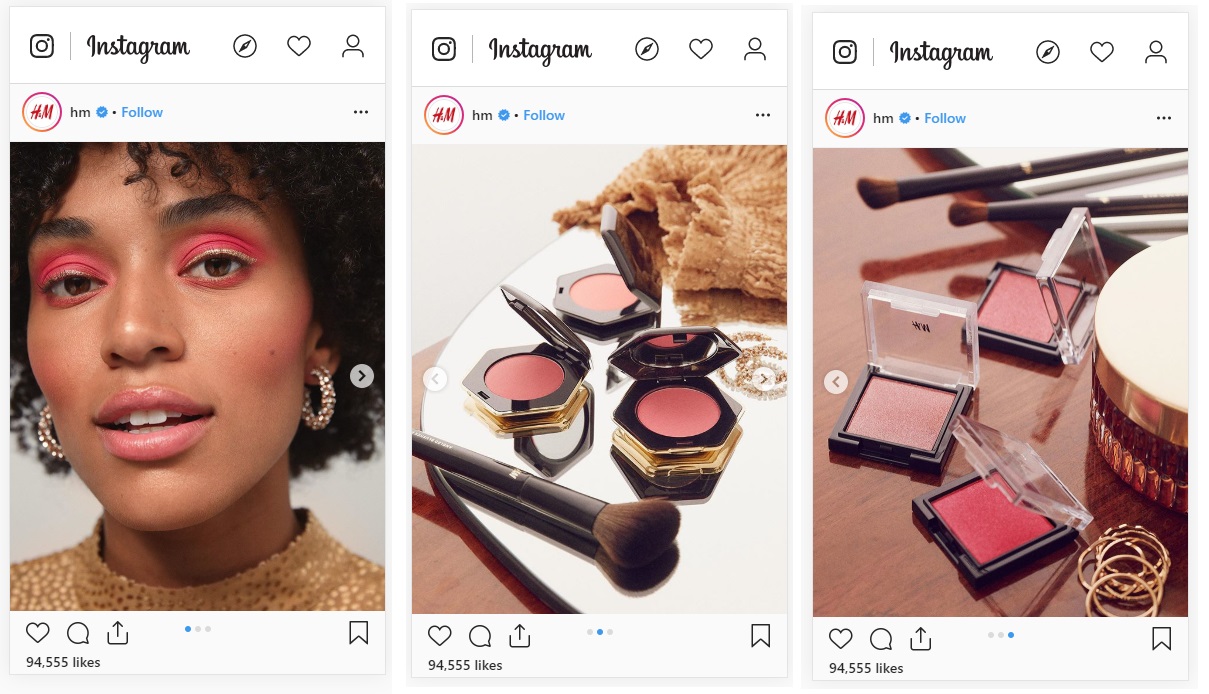 The carousel post format also supports videos up to 1 minute long, and you can mix videos and pictures in your post.
The benefit of this post format is that it relieves Instagram users from the stress of choosing the best shot for their curated feeds. You can select your best picture to be the "cover" of such a post, and add less perfect, but still important images next. These can be customer unpackaging videos or reviews.
Another helpful feature of the carousel format is that it allows users to share multiple images without bombarding feeds of their subscribers by sharing each picture as a new post.
Finally, a carousel post is your opportunity to get creative. A picture's worth a thousand words, and 10 pictures (or videos) can be worth a whole novel. This format is perfect for sharing bigger ideas or more complex messages.
How to Make a Carousel Post on Instagram?
Sharing a multiple image post is no harder that posting a regular image. Follow this step-by-step guide:
1. Take Instagram pictures to post in the carousel.
2. Open the Instagram app on your mobile device (you can't post from the desktop version.)
3. Tap the "+"sign on the bottom of your screen. That is how you add pictures to Instagram.
4. You'll see photos from your camera album. The latest photo will be pre-selected for your post (but you can choose any of the images.) Click the "select multiple" sign on your image.
5. Add photos to you Instagram post: select your images\videos from your camera album by clicking on them in the order you want them to appear in your carousel. The selected images\videos will get blue labels with sequential numbers. To deselect an image or video from your carousel, simply tap on it once again to remove the blue label. You won't be able to change the order of Instagram photos after posting.
6. Click "Next" in your top right corner.
7. Choose filters for each image or for all of them. To use all Instagram photo editing tools, click the image you want to improve and then choose to "Edit." Hit "Done" when your carousel image\video is ready.
8. Proceed to the last step: write an engaging caption to your carousel, add a handful of hashtags (for example, #sandiego) to improve visibility of your post.
9. Publish your carousel.
How May Instagram Carousel Posts Help to Promote Your Business and Sell Things?
Since the carousel format allows you to post more content within a single Instagram post, you have more opportunities to engage your customers. Below you'll find seven tactics for your carousel posts. However, don't limit yourself to these and test your own ideas.
Introduce a new product line
When you're launching your new arrivals, the carousel format can be very handy. Bundle images of all pieces of your new collection in a single post to show that you offer a wide choice of trending products.
Show before/after
If your product\service provides noticeable visual results, you can share pictures of the "before and after" stages to prove the effectiveness. Such transparency will do good to your brand and increase customer trust as long as your product or service actually works.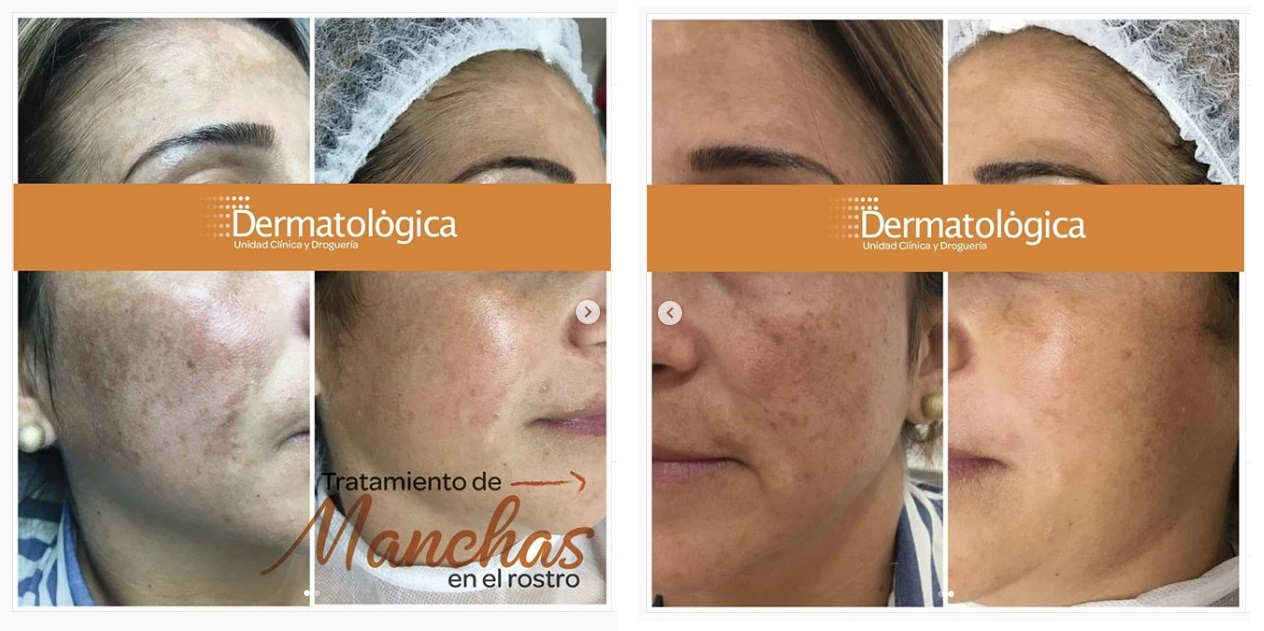 Share step-by-step tutorials
Not all products are easy to use, or at least, some of them require a bit of learning first. The carousel format is perfect for how-to's'.

Use services like Canva to add texts to your images. Remember that you'll have only one caption per carousel, so anything that doesn't fit 2,200 characters should go on the images.

Show your product from different angles
Product photography can make or break a sale. When customers buy something online, they can't touch, smell, try, or feel the product. A picture is the most informative source of knowledge about the product's features.

When doing product photography, try to compensate for the inability to touch them. Shoot from different angles, for example:
• The front view
• The back view
• The closeup
• The product in action
• Details.

Again, don't stop on those five and get creative with angles and composition. For example, if you sell clothes, you can show your item on different body types.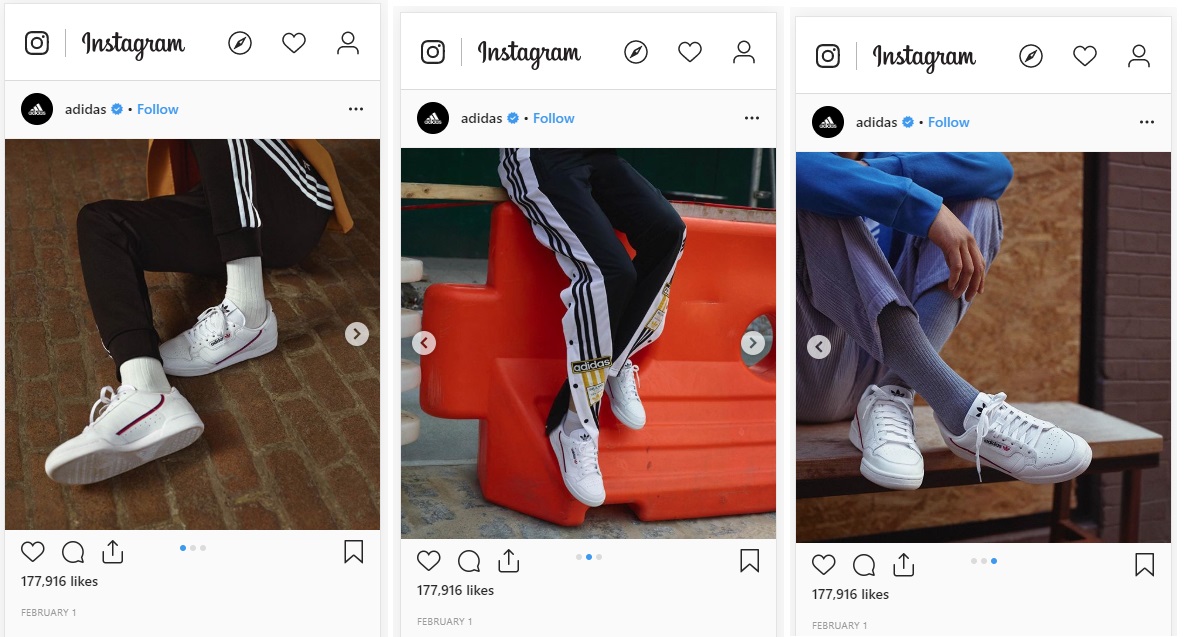 Collect related products in one post
Encourage customers to buy more by showing complementary products. That is called cross selling. For example, if you sell hobby products, you can post a burst of complementary items like paint, brushes, canvas, frames, etc. This way, you can grow your average order value.
Important! Since Instagram doesn't allow you to post any clickable links except the one in your profile description, it has always been difficult to lead your Instagram followers on your website. To maximize the effect of your carousel post with related products, you'll need to make it easy for your followers to find these products on your website. Add SKUs to your caption and highlight the products in your online storefront.
Share lots of photos from one event without spamming
If you host a promotional event or take part in someone else's, you'll probably gonna share lots of photos from there to increase customer trust and build credibility. In this case, you should remember every next picture you post from a similar location gets people bored, and soon after, annoyed.

So if you really need to share lots of pictures around one topic, consider packing them up in a carousel post.
Collect customer reviews
Increasing customer trust is very important for new businesses. If you've just landed on Instagram as a company, you'll need to show that it's safe to order from you. Customer reviews can help you achieve that.

There are several ways to collect reviews on Instagram:
• Create a branded #hashtag and ask your followers to tag their posts with reviews.
• Ask your customers to send their reviews via Direct Messages.
• Collect reviews in Stories.

Carousel posts help you to post reviews in your feed without ruining your brand aesthetics. Upload a curated photo first and add screenshots or customer photos next.
Showcase a larger image
Use Instagram image carousel for large pictures with lots of details, for example, panoramic views. To do that, you'll need to crop your image in Photoshop or any other photo editing software. For best results, make sure that the dimension of your final images is more than 900 px.
Don't Overlook Instagram Image Carousel
Experts agree that storytelling is crucial for successful Instagram marketing. Carousel posts are great for telling brand stories and engaging your customers, no matter how many slides in a carousel you use.

Remember that product carousels work as an ad format too -- you can advertise several products in a single ad, each with a separate link. When you get comfortable with regular feed carousels, you can test this format. It's a powerful tool for your business pictures.
Lucas Martley
26.12.2019
3520
0
0