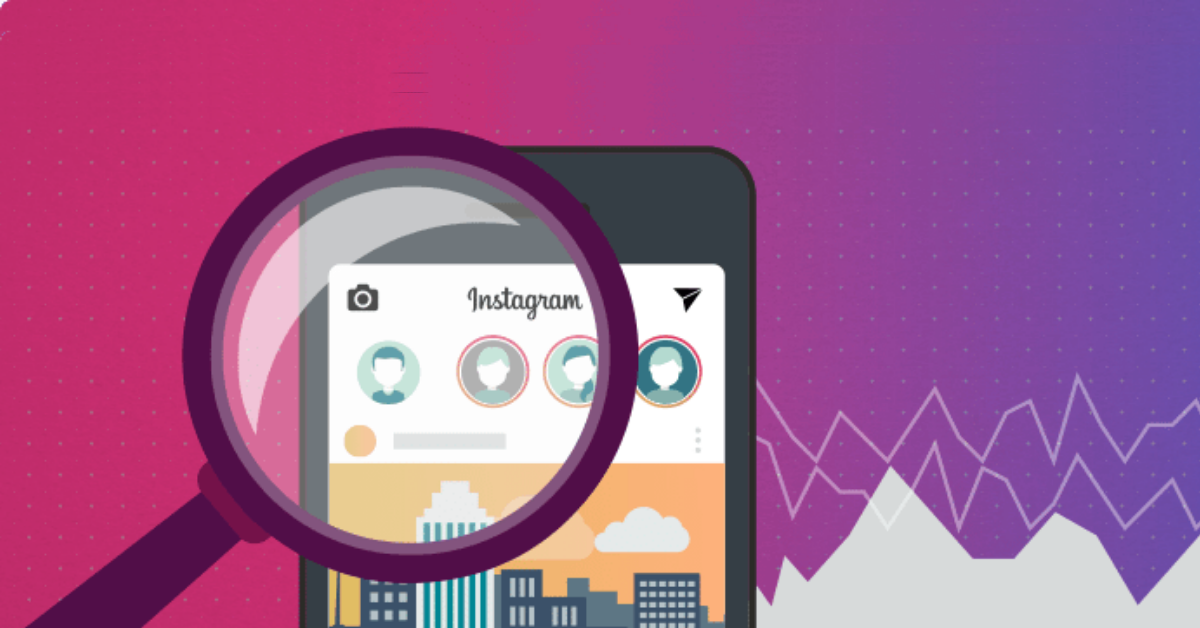 Additional promotion of posts through the "Search" and "Recommendations" Instagram
Displaying in the search results or in the "Recommendations" section of Instagram, you can significantly increase the number of views of your photos and get the opportunity to attract new users.
There are also ways to use the "Search" and "Recommendations" on Instagram for business. You can choose the most commonly used hashtags, attract the target audience, and find opinion leaders (owners of popular accounts) for cooperation.
We divided the article into 5 parts, each of which we will talk in detail about how to use Instagram Search and Recommendations for business.
How Instagram Search and Recommendations fields work?
To get started, let's figure out what you can search with the "Search" function on Instagram. Click on the magnifying glass icon to go to "Search" and "Recommendations."
"Search"
You can search in this section:
"Top" (most popular publications);
"People" (accounts of other users);
"Tags" (hashtags - special tags with keywords for search);
"Places" (tags for specific locations on the map).
You can use the search on the Instagram site. The only difference between searching in the application and on the website is that on the site, you cannot search by category (people/hashtags). You will have to add the "@" symbol to search for users and the "#" to search for hashtags.

How Instagram defines search results?
The search results that you see depend on a variety of factors, including the people you've followed, who you wrote to and from, and the photos and videos you've marked as liked.
When you click on the username in the search results, you will be taken to the profile. When you click on a hashtag or a marked location, you see a photo of these hashtags. At the same time, the first nine publications will be the most popular, and then all the other images will follow, starting with the last one uploaded.
Now let's take a closer look at the possibilities of using search and recommendations for your business.
How to get into the results of "Search" and "Recommendations" on Instagram
Getting into the search results of your target audience, you get the opportunity to introduce the brand to a broader circle of users and attract more new subscribers, in addition to the existing base.
So, to get into the SERP, try the following four methods.
1. Add your location and hashtags
For your stories and posts to appear in the search results, you need to add a tag for your geolocation and hashtags to each post.
To add a location to a post, click on any of the proposed items in the post's preset settings. If the proposed options do not have the desired address, add it yourself using the "add location" function.
Take the function "Story" as an example. To add a location to the story, click the Settings button, then click location.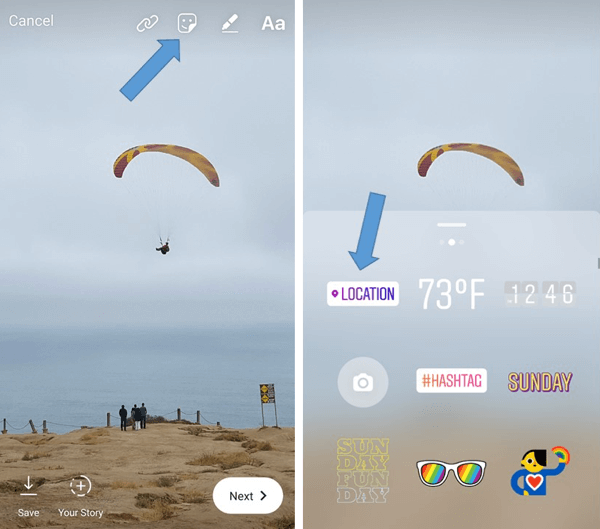 To add a hashtag, simply type the "#" character and the necessary words without spaces or punctuation marks, for example, "#NewYorkCity," "#dog," etc.
To add a hashtag to the story, click the Settings button, then the Hashtags. Or, select text input and manually write the hashtag. Instagram will also offer a selection of the most popular hashtags similar in theme to yours.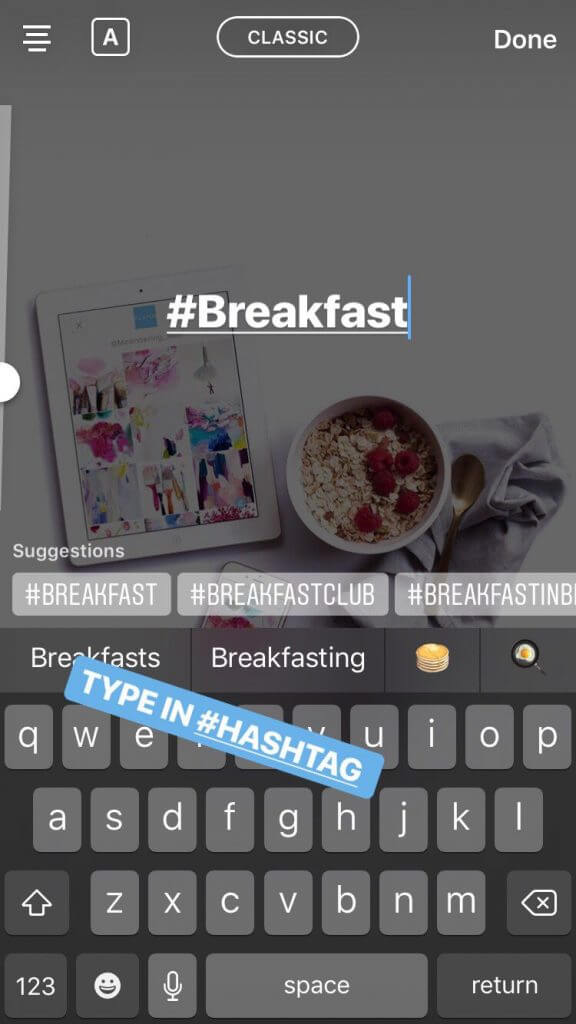 You can add up to 30 hashtags to each post, but TrackMaven has found that Instagram posts with only nine hashtags work better.
To find the best hashtags, you can use additional applications such as Focalmark (it creates a list of popular hashtags based on the photo caption) or Display Purposes. Below we will look in more detail at how to use "Search" and "Recommendations" to select the most suitable hashtags for you.
When you go to "Search," recently posted materials (separately from the top 9 most popular) will be shown first.
To optimize your publications under "Search," upload photos or videos tentatively at a time when the target audience is most active. Thus, you will get more chances to break into the top SERP.
If you have a business account, you can more accurately determine the days and times when most of your subscribers are most active. You can view this information using the Instagram Insights analytics tool.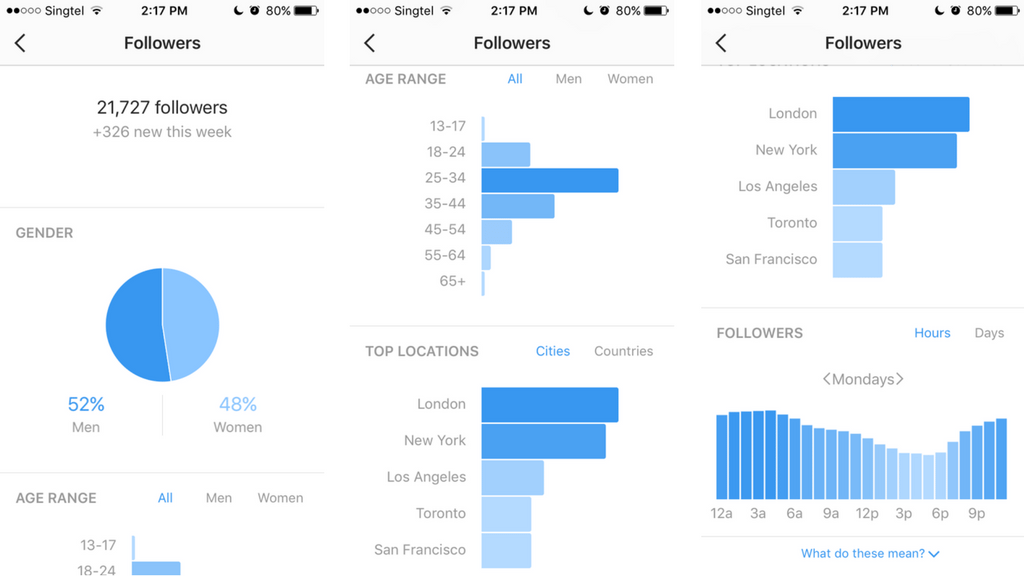 If you do not have a business account, you can use free Instagram analytics tools, for example, Union Metrics' free Instagram account checkup or WEBSTA, to choose the best time for publications.
Analytics shows the activity of your subscribers, from here, you can make the assumption that your potential target audience behaves similarly.
3. Create content interesting to your target audience.
In the search results, the top 9 most popular publications occupy almost all the space on the screen.
According to Instagram policy, top posts are selected based on their popularity among users. Those who collected a larger number of likes, comments, and reposts are selected. Accordingly, to get into the top 9 search results for "Instagram", you need to create really high-quality content, which is more likely to appeal to potential customers. And do not forget to mark the location and set hashtags so that this post can be found through the "Search."
Here are a couple of tips on how to create content that will be able to get into the top 9 in the future:
1. Take photos in high resolution: it is evident that high-quality photos get more likes and comments.
2. Use niche hashtags, that is, those for which your target audience is looking for content, since there is less competition for such hashtags and higher chances to get into the "Top Posts" section in the user's SERP.
How to use "Search" and "Recommendations" to select the best hashtags
To get started, let's decide what "best" and right hashtags for you. Properly selected hashtags can attract a broad audience to your videos and photos. Hashtags allow posts to appear in search results and recommendations of your target audience.
Here are two ways to choose the best hashtags using the Instagram search:
1. Based on search results
When you enter a word or phrase in the search bar and select "Hashtags," Instagram will show a list of hashtags that match your search and are similar to it.
Instagram will also show the number of posts that use a particular hashtag. This will help you choose the most popular.
However, the photographer Allen Harper, talking about how to use hashtags, on the contrary, recommends avoiding too popular ones.
"Some hashtags are much more popular than others. However, their popularity does not always mean efficiency. For example, you may notice that the hashtags #photooftheday, #like4like, #instagood, #iphoneonly, #VSCO are incredibly popular. But unfortunately, a considerable number of users use these hashtags under each new photo. This leads to the fact that many images simply drown in the search results within a few seconds, and they can no longer be found. They are also neutral and do not fall under the specific interests of users. In other words, your publication may be seen, but it will be disinterested users.
But it also makes no sense to use rare hashtags, as this means that these hashtags are attractive to a small group or to individual users. You can check the frequency of use of the hashtag using a search, where, again, it is shown how many posts exist using a particular hashtag.
This suggests that some hashtags are in the interests of a specific group of people. If you want to show your post to a particular community of users, then such hashtags will only benefit. Therefore, before using this or that hashtag, look at what materials they have marked.
2. Related hashtags
When you see hashtag search results, Instagram also offers similar hashtags. For example, Washington DC. Sometimes Instagram shows similar hashtags that are not displayed in the search results (for instance, #capital). Therefore, if you cannot find a suitable hashtag using the first method, try this one.
How to use Instagram to increase follower activity
Your followers can upload photos related to your business, but without a hashtag or location. In this case, you will not be able to find these materials. But, if they will use your brand hashtag or geodata, then you can easily find these posts and leave comments.
1. Interaction with users who use your brand hashtag
If you have your own brand hashtags, and you encourage followers to use them, it will be useful to subscribe in response to subscribers' updates and interact with their publications and stories.
Common ways to interact with user content
Like, post comments, repost, make posts with your brand hashtag to your company's website.
For example, Alpenglow offers its users to mark their publications with the hashtag #alpenglowapp, and then the official alpenglow account reposts such photos to its page.
You can also interact with posts tagged with a hashtag that is close to your brand name.
For example, a coffee shop for this should look for publications by tags such as #coffeeoftheday, #coffeetime, and #instacoffee.
If you want to leave comments, then it is better to do it meaningfully. Leaving generated comments (for example, "Great!", "You have good photos, more of them!"), or comments consisting only of emoticons will disappoint your subscribers.
2. Interaction with followers using your location
This tip is more suitable for local businesses: restaurants, cafes, and hotels than for online businesses.
If you have a location tag, I recommend that you regularly check the news feed to find photos, videos, and stories of users who have visited you, so you can follow them, thank them for visiting your place and get feedback by asking for their opinion on your services.
If you don't have geolocation yet, here are a few steps to create it:
Step 1: Open the Facebook mobile app and select the "Where Are You" menu.
Step 2: Type the name of your business in the "Where are you" box.
Step 3: Scroll down the screen and select "add (your name) to (your location)."
Step 4: Choose the most appropriate category.
Step 5: fill in your exact address and add a photo representing your location (for example, the facade of the building where your office is located, your cafe, etc. by analogy with Google Maps).
Step 6: Click Create.
Now you can attract even those users who are simply located near you. To do this, go to "Location" and select "Near current location."
Alternatively, you can search for specific places near your place where your target audience can spend time and take photos that you can then post to your account.
Conclusion
With the capabilities of "Search" and "Recommendations" on Instagram, you can significantly increase brand awareness by getting publications in the issuance of these sections. You can find posts to interact with users and find opinion leaders with whom you can collaborate. Get the opportunity to choose the best brand hashtag.
Lucas Martley
29.12.2019
3501
0
0