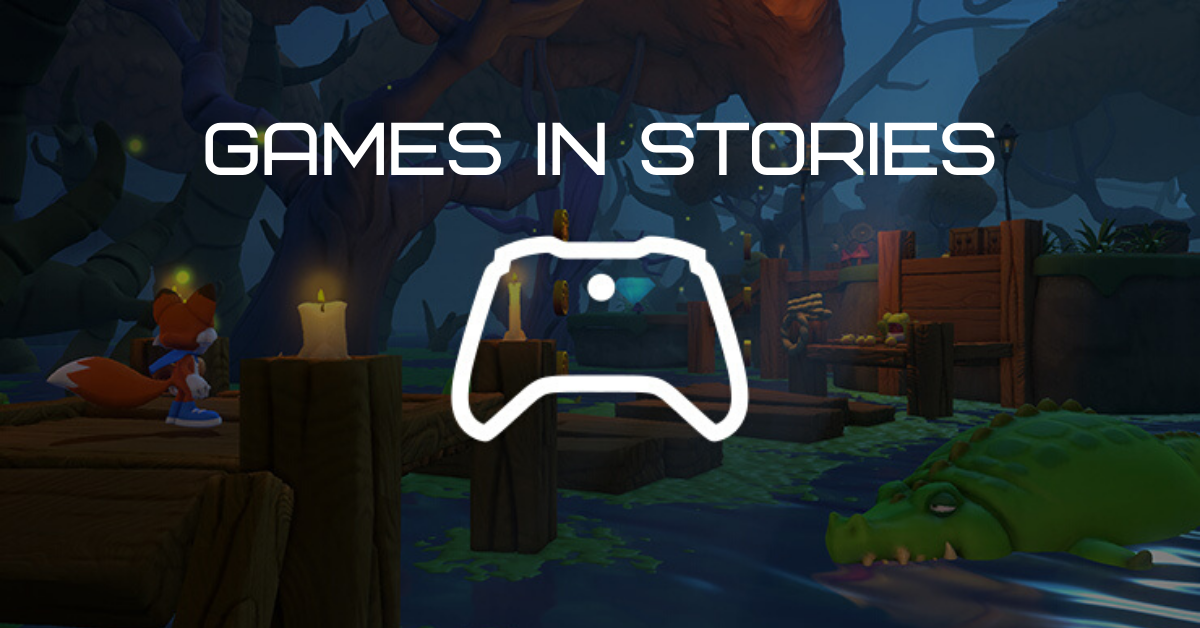 Games in Stories: how to engage and entertain your audience
Gamification is a trend of the last five years. Coca-cola, Leroy Merlin, Bacardi, and other large companies are actively using games on Instagram. How to create them? In the article, we will analyze several creative schemes for in Stories.
The game "guide me"
Allow users to manage your activities during the day.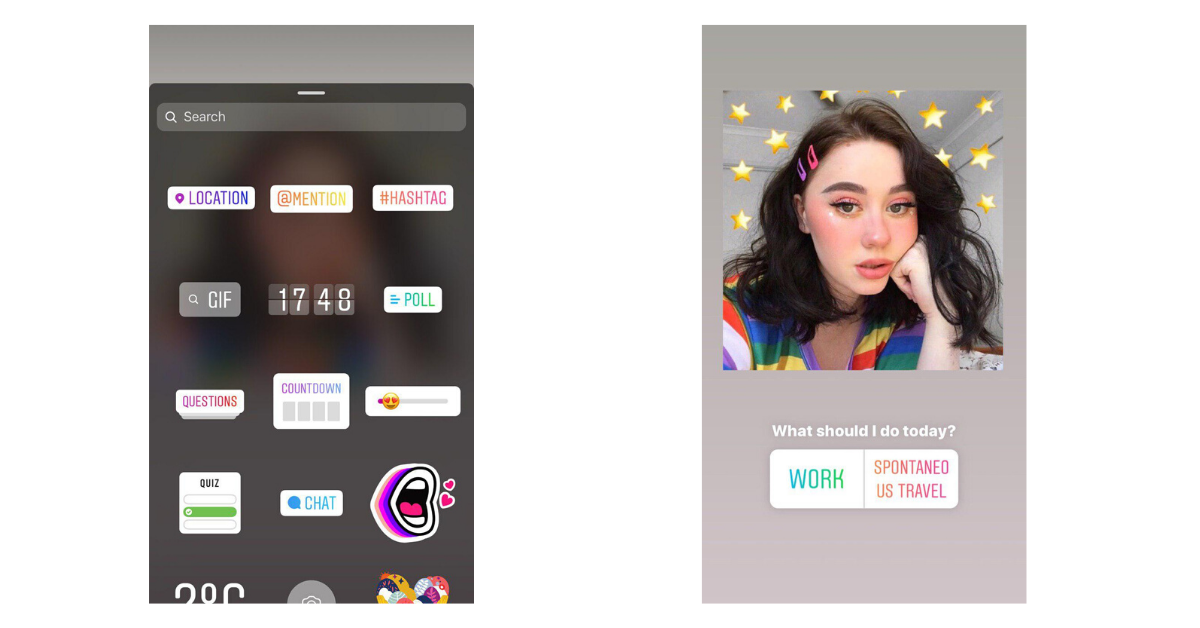 Before starting the game, tell your subscribers that they can decide what to do, where to go, what to eat, etc. Then, according to a scenario prepared in advance, offer the audience choices.
For example:
Should I wear a dress or a Batman costume?
Breakfast with porridge or fried crickets?
The main thing is that the options should be challenging and not tedious. Add some entertainment because the audience does not want to solve everyday household chores. They want a show!
One poll lasts no more than an hour. Then you perform the action for which most players voted, show the result, and ask the next question.
This game will attract the attention of viewers and turn your day into an interactive reality show. Companies, through this game, can show their inner kitchen of the corporation. For example, a clothing store may offer people to choose several outfits, a photoshoot hero, or a location for him/her.
The game with pre-recorded videos
In Stories, there are only two control functions: the user can tap on the right edge of the screen or on the left to fast forward or backward Stories. And this feature is an excellent opportunity to create a game with the effect of interactive control.
Here are some examples:
1. Case of Bacardi brand
2. Case of Coca-cola (made for Snapchat, but the principle is the same)
Start with writing script. What will happen in your game? For example, you can ask viewers to help clean up your closet, bake a pie, get ready for work, pack your bags, etc. It is advisable to fit the whole game into 5–6 Stories. Then shoot the Stories according to your scenario: 1 Stories equal to 1 step of a game.
There are a lot of advantages of such games: you can tell followers about the product with their help, creatively present the product, give a solution to problems of the potential client, etc.
By the way, according to the reviews of my clients, people played the games created for them several times, again and again.
The game "Draw me a mustache"
What is the essence of the game? You upload your photo to Stories and invite followers to take a screenshot and draw something else, edit it in their way. For example, add a mustache, hat, tube, wings, etc. Then you publish the most creative drawings in Stories mentioning the author.
If you conduct an SMM promotion on Instagram, then in a campaign, you can offer to draw the mustache for a director, chief accountant, or any other employee. In addition to the viral effect, such a game will create a friendly atmosphere with customers, and users will remember the key personalities of your company much faster.
The ability to laugh at oneself will increase the loyalty of the audience and reduce the degree of seriousness for business blogs.
If the center of communication is not a specific person whose photo followers can edit, you can try:
1. Branded GIFs. With the help of an illustrator, create and draw gifs with your product/brand, as it was done, for example, in TOUS. We have made a detailed guide on how to create branded GIFs for Instagram in this article.
Upload them to giphy.com by adding related theme tags. The next step is to show in Stories your GIF-pack with tags for which these gifs can be found. Then ask subscribers to record the Stories with your gifs. The best, of course, should get into your publications.
2. Branded colorings. Ask the designer to make a coloring layout with your product and put it in Stories. Then invite subscribers to make a screen of the image, upload it to Stories, and paint it there. If the audience of the company is more creative, you can offer users not only to add colors but also to finish something.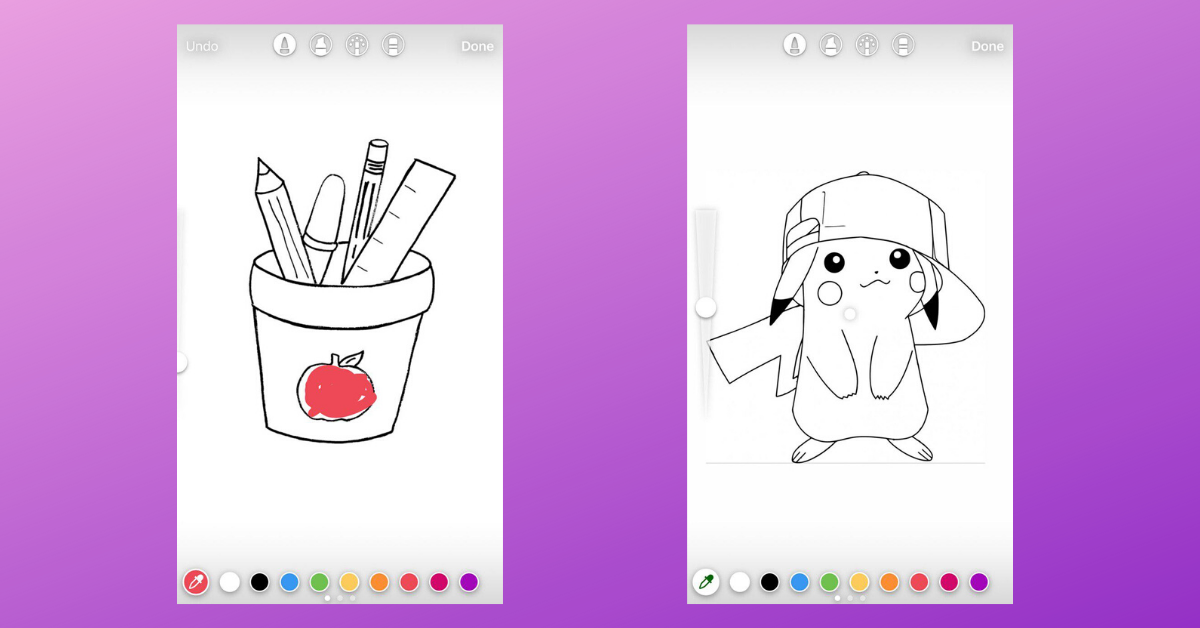 Questionnaires in Stories
If your school childhood was in the 90s, you probably remember the numerous notebook-questionnaires. Despite the simplicity of the game, it is great addictive.
Post the questionnaire in Stories, ask subscribers to take a screenshot, fill out and then publish with a link to your account. If you are running a company blog, be sure to brand the profile for a corporate identity.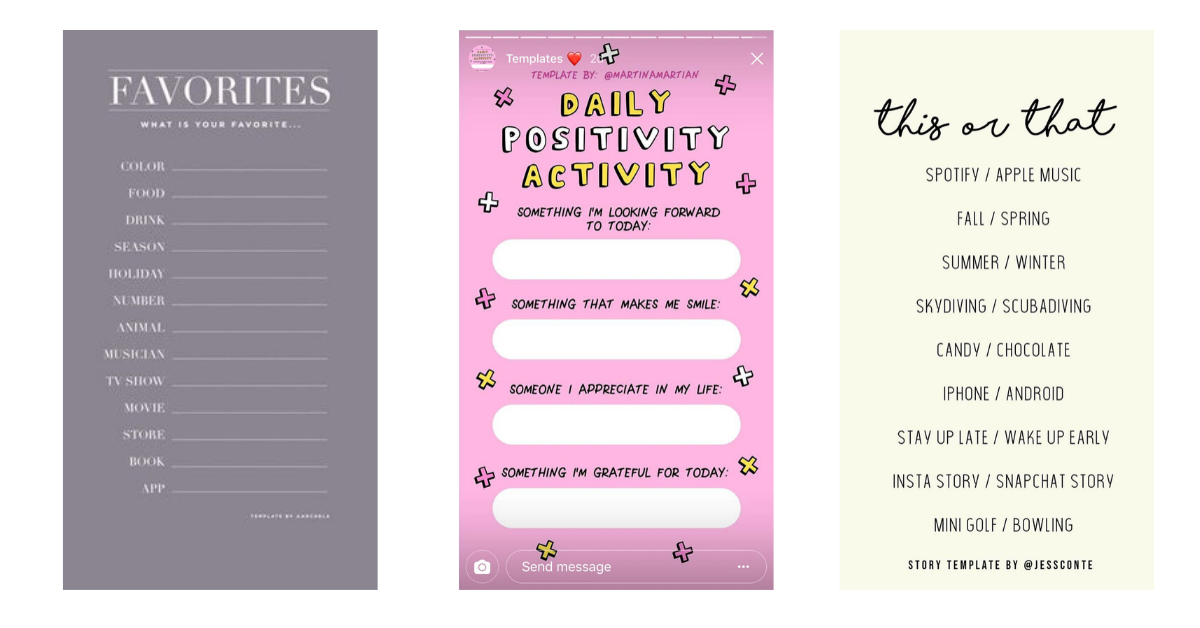 You can ask about anything. Well, if the questions will not directly relate to the sales of your product. For example, ask users about their weekly plans or favorite bloggers. Show your interest in the life of subscribers.
Such questionnaires are especially popular with a young audience (13–19 years old).
The game "True or false"
Posts in the spirit of "10 facts about yourself" did not do probably only lazy ones. Today, such posts in the feed are simply ignored by followers. This game will help change the situation.
Prepare some facts about yourself and mix them with fictional events. Using polls, invite players to guess which of the facts are true and which are not. Combine entertaining questions with those that show your competence. If you keep a company's blog, you can ask questions about a specific expert, as well as about a product, company's device or production.
Spread the facts one by one during the day, and at the end - summarize. Mark the most quick-witted players in the final Stories. It's not difficult for you, but people are pleased. As a result, such a game will increase user engagement and loyalty.
Why the Stories format is better suited for such games than IGTV, which recently appeared, and how to share content between them? We explain.
The main difference between Stories and IGTV is precisely in the possibility of various options for interacting with other people's content (polls, questions, reposts, simple switching), plus the presence of additional options(gifs, locations, hashtags, drawing, etc.). According to this principle, it is more logical to separate content for these formats:
In Stories:
1. Content for interaction with TA (for example, games, and polls that are mentioned before);
2. Reposts of your subscribers, partners;
3. Content which contains something from the arsenal of Stories options (for example, create an AR effect and make funny stories using GIFs)
At IGTV:
1. Useful posts;
2. Demonstration of goods;
3. Serious backstages - those in which it is inappropriate to put a mustache on the CEO.
Remember that regardless of age, everyone likes to play. Therefore, invent your own games, experiment, engage, and entertain the audience!
Lucas Martley
10.12.2019
5839
0
0