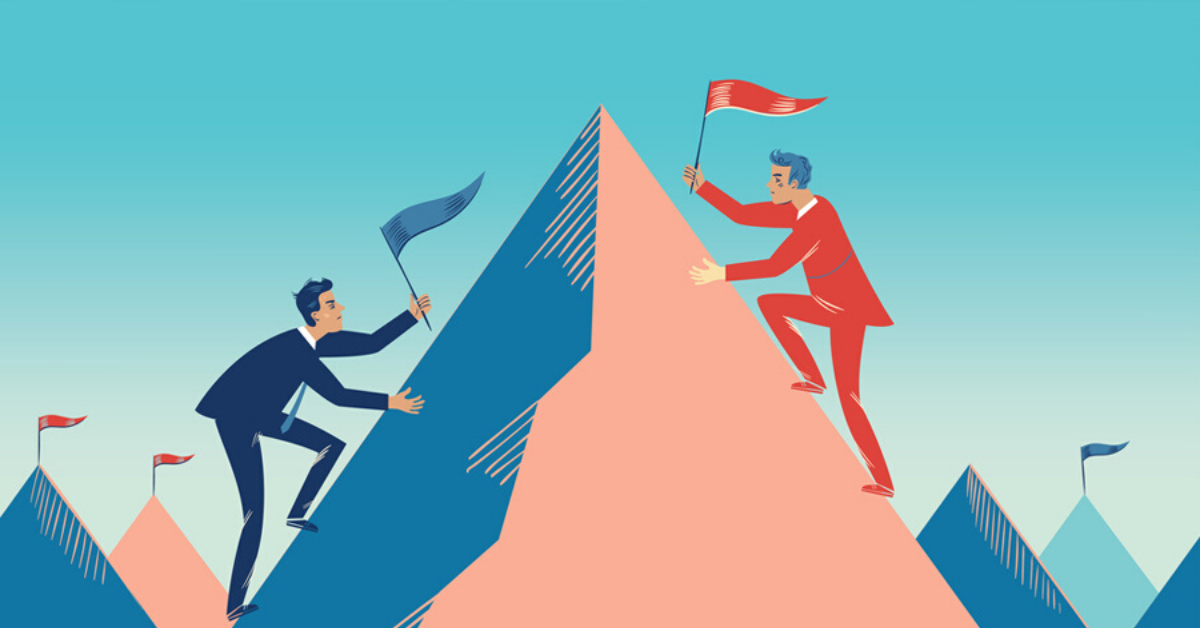 Competitors in social networks: whom, what and how to analyze
Any company has competitors in social networks. It remains to figure out who exactly should be analyzed and what indicators to pay attention to.
Who are the objects to analyze?
1. Direct competitors
These are business competitors. They produce the same product, which means that the target audience can buy it instead of yours. Like Coca-Cola and Pepsi.
2. Indirect competitors
These are companies of your subject, but which are no match for you: the wrong market, price category, etc.
3. Competitors for attention

They produce a completely different product. In commercial terms, you do not intersect with them in any way and can even be colleagues if your products are often bought in pairs. The only important thing is that you have one target audience.
For example, high competition for attention is noticeable in all communities whose target audience is "mothers." You can't invent a content bike for them - whether you like it or not, you'll have to write about children and fight on social networks for one piece of the pie.
We believe that information on competitors is never superfluous. And even if you thoroughly analyze only business competitors, it will not take you much time to go over the rest superficially.
What exactly and how to analyze?
When analyzing competitors, it is essential to pay attention not only to the number of subscribers, posting frequency and other performance indicators, but also to quality parameters that also help to brainstorm to find a profitable niche.
What and how to analyze, we will explain using the example of Facebook.
1. Community Theme
You need to examine the topics of competitor communities not with the purpose of doing the same, but better. First of all, this is necessary to build up and do something completely different.
Why is it important? Many brands find themselves driven into a corner by their chosen theme: the concept of a community is painfully apparent, but is it able to bring success?
Consider the topics of the competitive communities, and all the following points for the audience's reaction, opportunities to stand out from the crowd, cut off potential mistakes, and adopt working mechanics.
2. Content: its uniqueness, categorization
The subjective analysis will help to understand why the level of involvement in competitor communities is above or below the norm.
A low level of involvement may result from:
low-quality content: the main factors here are uniqueness, creativity, and usefulness;
lack of advertising promotion;
low-quality audience: if 99 out of 100 subscribers are bots, then there will clearly be no one to respond to posts.
Uniqueness, creativity, usefulness - all these factors can be easily told by eye, highlighting the strengths and weaknesses of competitors' content. For a more objective assessment, you need to break down the posts into categories/topics and see how the audience responds to each of them — match groups of posts with the interests of the target audience and the potential goals of the competitor.
As a rule, companies from one category choose similar goals: someone works only for sales, someone wants recognition, someone needs communication and interaction with the audience, etc. It depends on the specifics of the business.
With the rubrics highlighted in competitor communities, see how they overlap. Thanks to this, one can find free niches for oneself, see how to build business up, what gaps to fill in, so that the audience does not have to choose between similar offers.
3. Design profile
Most users view posts in a "surfing" format: they scroll through the feed in a quickened mode, paying attention only to the visuals. They stop and start reading the text only in those cases when the post is hooked, less often - when they see the news of the community, which they read regularly.
The visual appeal of the community and the content is crucial and significantly affects the level of engagement of the audience. In order to correctly analyze the design of competitor groups and take into account their mistakes in the formation of their style, it is necessary to determine the main criteria for evaluating visuals.

4. Mechanisms of involvement, activation
By analyzing the mechanics of engagement, you identify not only interesting cases but also find a rationale for the level of participation in competitor communities. It is imperative to understand the exact reasons for their success.
Activations in the community can be any content that seeks to receive feedback from subscribers and visitors of the community. Moreover, it can be either standard mechanics (polls, contests, games, etc.), or more complex, with unique conditions, such as flashmobs, challenges, marathons. Here are examples of those activations that are present in one form or another in each community and are ideal for analysis: polls, giveaways, marathons, flashmobs, contests.
5. The audience, its quality
Do not be too lazy to go to the list of participants and visually evaluate whether what you see matches the portrait of the target audience.
A poor-quality audience can be seen with the naked eye: it is shown by the abundance of schoolchildren (of course, if they are not the target audience), avatars with abstract cats, and other pictures.
When this data is in front of your eyes, an understanding comes from where the millions of subscribers, wound by left-handed services and ill-conceived mechanics, giving the company absolutely nothing, and even spoil the performance. Fortunately, the era of the million-person community in social networks has passed. Now users with a great thrill and trust relate to small communities with a live audience.
Lucas Martley
11.12.2019
3430
0
0