Instagram Stickers and Their Benefits in Marketing
Nowadays, many users can't imagine their stories without Instagram story stickers.
To Stick or not to Stick?
First, the usage of stories was primitive. People set photos and videos and signed up using the brush. The situation has changed. Today, Instagram offers a wide range of different stickers, so users can refine their stories. For example, put gif-animation, ask a question to subscribers, set up the musical accompaniment. In addition, special pictures will help make the story bright and beautiful. How to add stickers to Instagram photos? Just create a story and tap on the smile in the right corner of the page. Then choose suitable stickers and go ahead!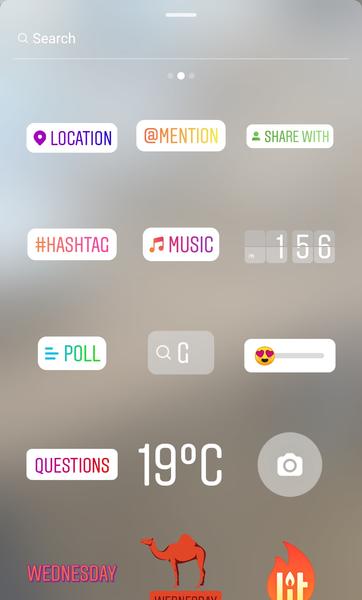 Instagram Stickers from A to Z
Not every user know what Instagram sticker is. It's a picture or a signature which can give the user additional information or just decorate your story. Some stickers have already tried and tested for a long time; some have just entered the Instagram market. Let's review all kind of stickers and pick the most popular ones.
When?
If you add the current time or date to the story, probably people can use this information. These stickers collect the information from your device according to your location. If you click on the sticker after you post it in the story, you can change the color of the sticker. Keep clicking to select different style options.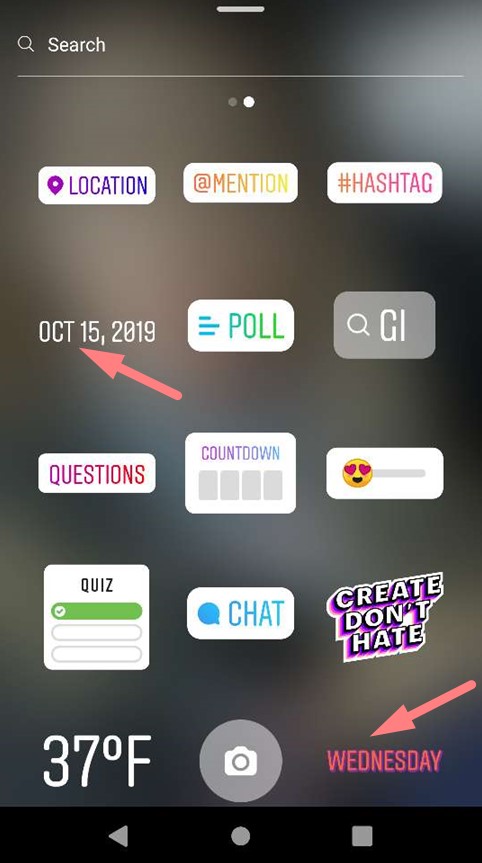 Where?
When you add a geotag to your post, it appears on the photo map. This feature will be necessary for local businesses and tourism companies. Does the company have an office or a store? Then you can't do without geotags. They will tell people where you can be found.
Invite to Chat
The chat sticker has recently appeared on Instagram stories. This is the first full-fledged opportunity to establish a dialogue with users and create a mini-community based on the account. Invite the audience to the discussion directly from Stories: full-fledged live communication in the group chat of the direct. Moreover, this is very a good thing for both bloggers and brands.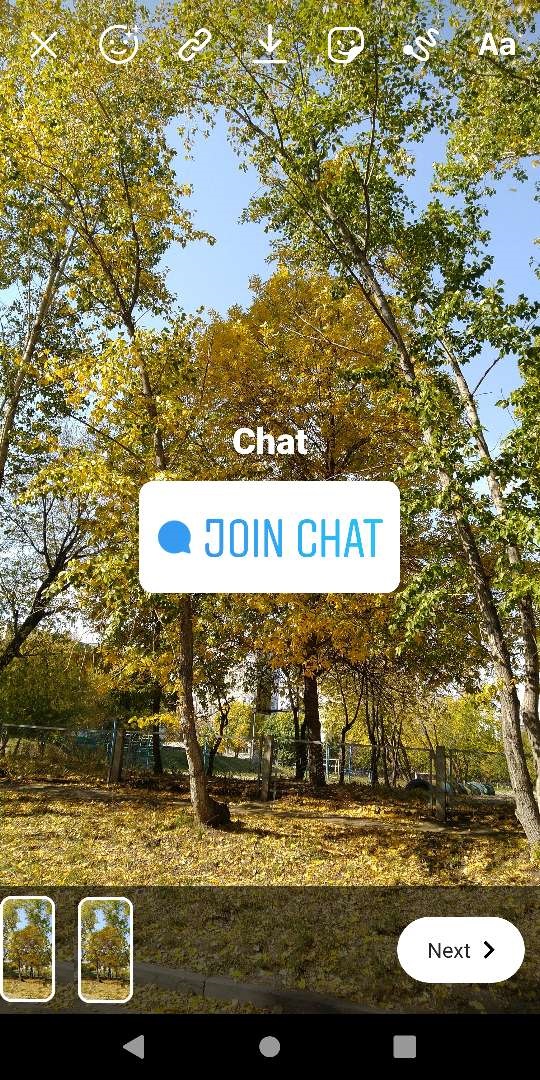 Count!
Ten, nine, eight ... your subscribers pending a long-awaited event. Make the reminder brighter - choose the color, shape and size of the sticker. When subscribers see a countdown sticker in your story, they will be able to touch the corner of the sticker to receive a reminder or share a countdown in their own story. At the end of the countdown, all users (who turned on the reminder about it) will receive a notification.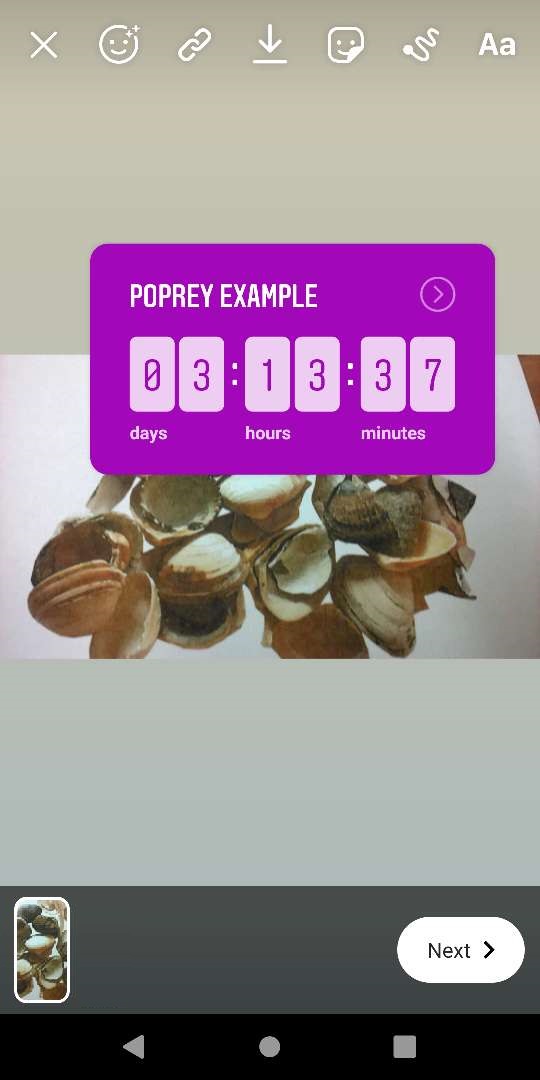 Ask!
What could be easier to get information than a question? This simple sticker provides new opportunities for the user to communicate with subscribers. People can ask you a question or send a song. Swipe up in the story, if you want to know the answers. Do you want to share an answer? Click on it. The photo and username of the responder will not be displayed.
Listen!
If it seems to you that words are not enough to describe your feelings, musical stickers are what you need. This is a rather new update. If you want to add music to the stories, open the stickers menu, click on the icon "Music" and select any of the available tracks. Choose the font and design for lyrics. Your subscribers can learn more about the artist or listen to the whole song. Since this function is quite young, not all accounts have the ability to use this sticker.
Take Selfie
Nothing will show your emotions better than a selfie! Add your image to story with an Instagram photo sticker. This life hack adds naturalness to your stories. It also brings you closer to your subscribers.
Play Quiz
Let's play? As little kids, we like to play games, and Instagram developers are actively using this. The quiz sticker allows you to ask a question and offer several answer options, among which one is correct and the rest are incorrect. When you select the correct answer, a firework appears on the screen. It's nice, isn't it?)) When you choose the wrong one, the sticker shakes and shows the correct answer. This sticker belongs to the group of interaction stickers, as well as polls, questions, sliders. When people click on the screen, they interact with the content and thereby promote it.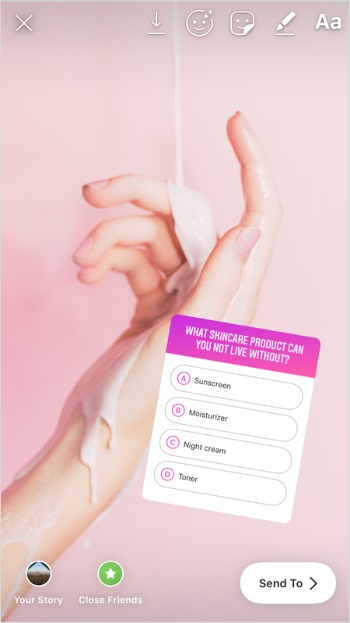 Try to Donate
The latest news on Instagram is a sticker for collecting donations. Charitable organizations will be able to collect donations directly in stories within 24 hours. Moreover, charitable fundraising will be available to ordinary users. Write down a story, attach a new sticker and choose one of the largest non-profit charitable organizations. Start collecting - make this world kinder! Your subscribers will appreciate it! P.S. Donation stickers are not available to everyone yet.
What?
Use current hashtags. Not all trending tags will attract attention to the brand. Hashtags have to match the look of your account and the purpose of the post. Choosing the right hashtags is a real art and every brand should do it on its own.
Use GIF
Using GIFs in your Instagram stories is a great way to grab the attention of your subscribers and highlight elements. Enter the keywords "swipe-up", "link in the description", "sound" in the search bar and add a gif for your subscribers. Add arrows and other symbols to direct subscribers to the next story. Do you know that you can create your own gifs for stories?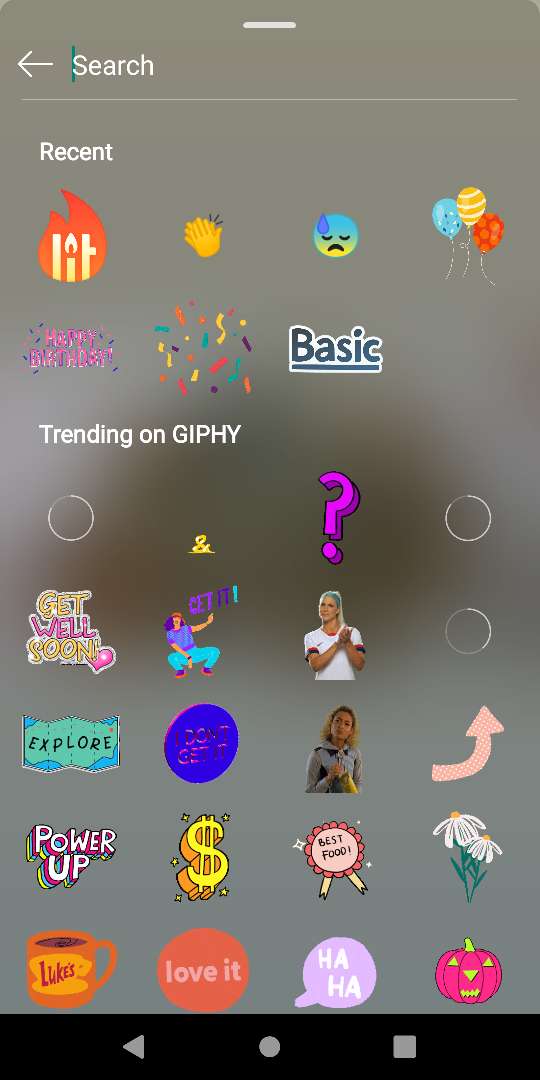 Important! How to make Instagram stickers? Create a channel in Giphy and verify it for your brand. Download your stickers as GIF files (follow the requirements). Remember to add description tags. Your gif stickers are ready!
How?
Emoji slider and poll sticker allow you to find out the opinions of subscribers on any issue. You can ask about the latest trends or about your new item. It is enough to compose a question correctly or use a suitable picture. This will help you increase user engagement.
Exploit Stickers to Their Fullest
However, stickers are not just fun interactive pictures, but a powerful tool for promotion in the hands of experienced users. We prepare some practical advice to increase the reach with stickers.
1. Publish interesting and relevant information to your audience. The most reliable way to find out topics for publications is to ask about it. Sticker answers are collected on one page; it is convenient for sorting the results and drawing up a content plan. When publishing a post or going on air, tell your subscribers that this is a topic on their request. People like when they are listened to their opinions.
2. Topics for using the quiz can be very diverse. Users demonstrate their erudition not only, but they are also involved in the discussion of your product or account. Ask the audience to guess the facts about the new product: color, taste, and name - the questions depend on what you are selling. Let your subscribers know you better with a quiz about yourself. Compose questions with facts and give the opportunity to find the wrong one.
3. Use the chat sticker to the fullest until competitors have done so. Invite customers to the event, share an exclusive promotional code or link, exchange relevant information, conduct brainstorming sessions and interactive events, receive feedback. The possibilities of using the new tool are limited only by your imagination.
4. Be bright! Use gifs to attract attention. For a wow effect, attach a gif in an unexpected place or moment in your story. Decorate selfies and highlight text with stickers - complement reality in our stories.
Instagram stickers are a world of endless possibilities! Show new cities marked by geolocation. Share your emotions using gifs. Tag friends. Get feedback from subscribers. In a word - do not miss the chance to diversify the stories and attract the audience attention.
Lucas Martley
24.12.2019
3882
0
0