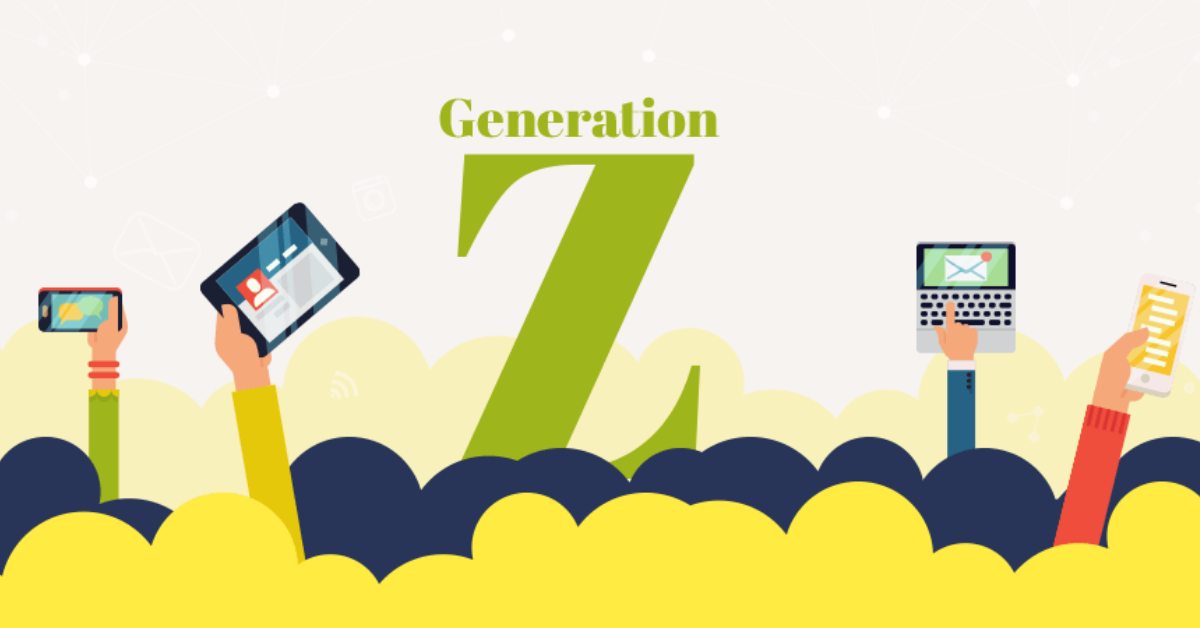 Sales funnel for Generation Z: How to actually communicate with youth
Almost everything that is said about the Z generation is not valid. What are the real features of modern youth, and how to take them into account in the creation of sales funnel?
Offline shopping, reading email and other amazing features of the younger generation
Multitasking prodigies with an 8-second attention range, born with gadgets in their hand - this is how the media typically describes members of the Gen Z. Marketers, whose target audience includes adolescents and youth, have to follow these stereotypes.
Recently published the results of a study that proved: almost everything that says about generation Z is not valid. It has far fewer differences from its predecessors than is commonly thought, and these differences are not entirely similar to conventional beliefs.
Let's see how Z people actually behave online and offline.
Myth versus reality
To begin with, we compare the myths we know with the facts.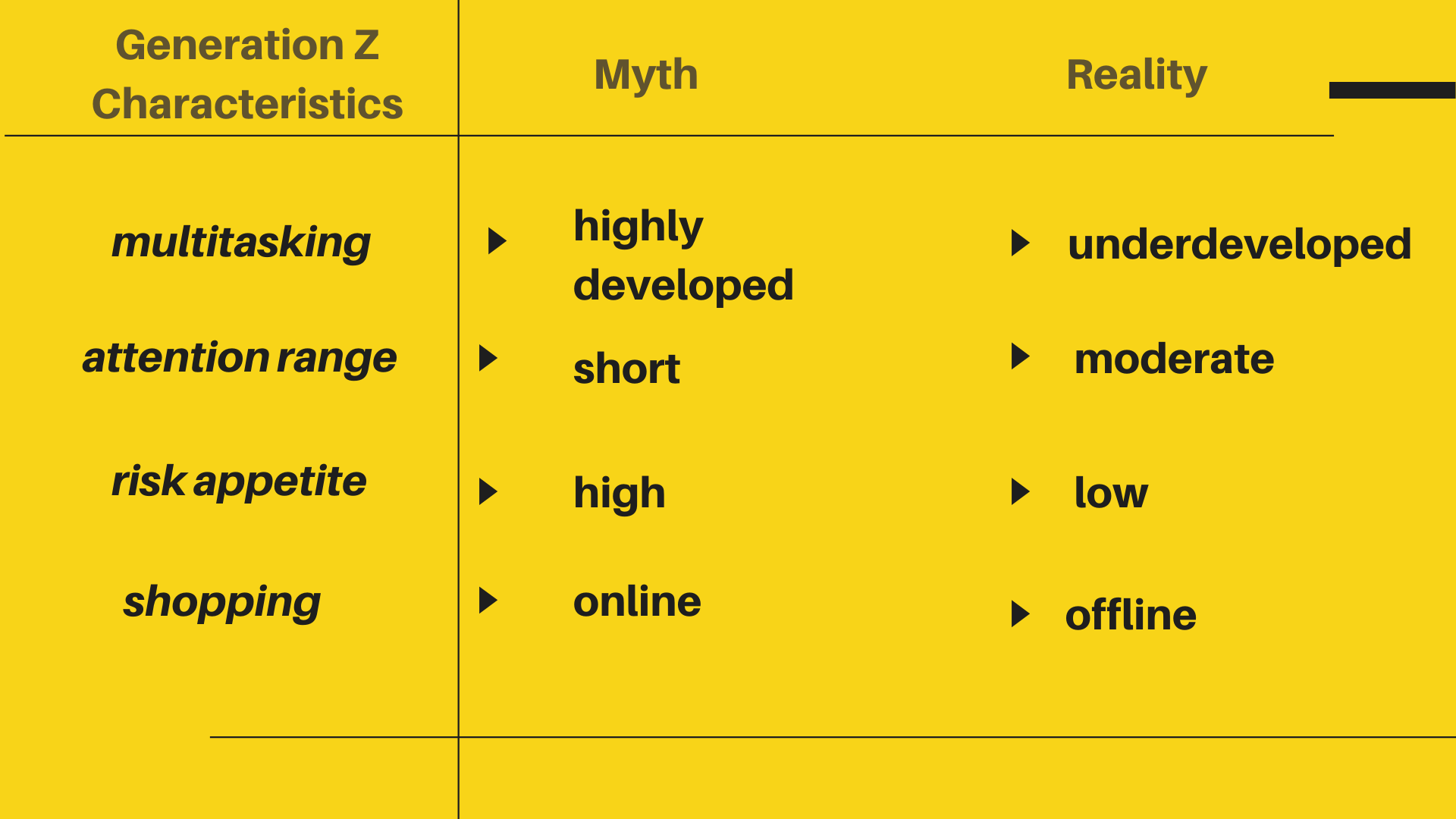 Such moments as the absence of critical thinking, a tendency to depression, freedom of expression, impulsivity, bullying generally characterize any young generation, regardless of age and year of birth. And the inability to live a minute without a smartphone, as it turned out, is today inherent not only in children and adolescents but also in adults.
However, this does not mean that Generation Z does not have any distinctive features on which to base a marketing strategy. Combine the data of studies to understand how best to contact them at each stage of the sales funnel.
Step 1. Getting to know the brand
The storyliving
For modern storytelling, foreign marketers even introduced a new term - storyliving. This is not about the story behind a brand but an opportunity for consumers to "live" this story themselves. A similar experience is usually created using virtual and augmented reality, but it can be reproduced in a playful way and offline.
A smart solution was developed by the Dutch airline KLM, giving passengers of low-cost flights the opportunity to virtually "transfer" on board the brand's aircraft. The inconvenient seat, the lack of entertainment and food were compensated by the comfort of KLM in virtual reality, for which the company manufactured branded glasses. It is impossible to feel the advantages of a flight that you didn't make before more realistically.
Since 60% of Generation Z representatives prefer to spend money on impressions rather than tangible goods, storytelling will be a winning tactic to introduce the brand.

Snapchat, YouTube and Instagram
According to a survey by Business Insider, the top 3 popular Internet resources among young people are Snapchat, YouTube, and Instagram. For greater reach, branded campaigns are best to run on these sites.
Suitable formats include overlooked Bumper Ads and short Stories. Generation Z overtakes its predecessors in Instagram Stories views, so this advertising placement can be considered a priority.
Micro-influencers
A survey conducted by Defy Media showed that teens between the ages of 13 and 17 trust the recommendations of YouTube bloggers much more than advertisements with famous stars. Due to the skepticism towards authorities (a feature of any new generation), young people are more likely to listen to a micro-influencer close to them in position than to a millionaire channel.
The easiest way to find local opinion leaders and start working with them is to use communication platforms:
AllTop - see the top blogs by industry
Buzzsumo - helps to find blogs with trending content
Tomoson - a software tool that allows finding influencers & micro-influencers
Google Search - a great place to look for influential blogs as a result of their organic ranking
FollowerWonk - another great tool by Moz that identifies the influential people behind a blog
Twitter - one of the most comprehensive search functions. Start by looking for popular tweets and individuals with thousands of followers.
Extensive database of bloggers at different sites can be filtered by topic, scope, price of cooperation, experience, involvement, and other parameters.
If you are not sure that you can turn to Generation Z in their language, let one of the representatives do it.
Step 2. Reasoning
Email
Paradoxically, the most popular channel for young people to interact with brands is not social networks, but email. So says 65% of representatives of generation Z, while Facebook and Instagram account for 10%, and on YouTube - 0%.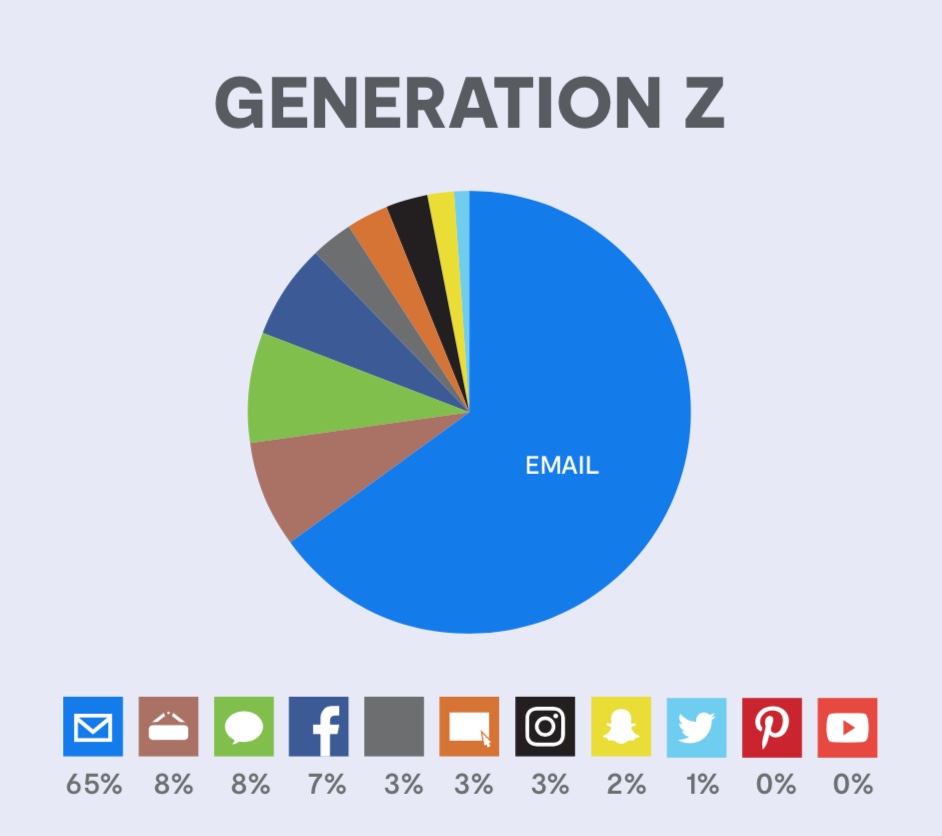 Probably, the point is the feeling of privacy and the extensive possibilities of personalized letters.
Email remains one of the main communication channels in the middle of the sales funnels, even for Generation Z. Trigger mailings after actions on the site, reminders of the abandoned cart, and just messages about "hot" promotions - all this makes sense to add to the promotion strategy.
Email newsletters are preceded by lead generation. Therefore, it should become part of your marketing mix. Do not miss users from the upper levels of the funnel without knowing their contacts.
Omnichannel
Generation Z relaxes almost every day on social networks, communicates in instant messengers, speaks with voice assistants, and searches the Internet for various information. If we are talking about the stage of reflection before buying, "catching" them on one channel is inefficient.
Omni-channels implies a sequence of advertising messages on each site. So, people who viewed a specific product of a particular brand on the website should not be annoyed by the advertising of the entire store. As connoisseurs of a unique experience, young users want to see a different approach to creativity on various resources.
Equally important is the correct analytics setting, which takes into account ad views on one site while showing on others.
Chats and instant messengers
Although at work, Generation Z wants to communicate with colleagues personally, for remote communications they prefer chatting over telephone conversations. These are global research data from Dell and Liveperson. Young people are more willing to help in choosing a product and placing an order in a chat or messenger.
Advertisers on all sites will find it helpful to create fully and partially automated chatbots for the site. Do not forget about popular instant messengers (WhatsApp, Telegram, etc.), they also serve as suitable platforms for bots.
Step 3. Purchase
Offline sales
Another unexpected trait of the Z people is their penchant for offline shopping. A study by a Hong Kong retailer shows that 99% of young consumers are purchased in "real" stores. At the same time, 80% are eagerly awaiting shopping, while 38% believe that it is difficult to find the right product on the Internet.
All brands with their own points of sales need to be promoted. Make sure you are appropriately represented on Google My Business. This will allow stores to appear on maps and fall out in the search in the form of fascinating snippets.
To prevent such purchases from being taken into account in isolation from the digital levels of the sales funnel, it is important to set up offline conversion tracking.
Physical + Digital Experience
Offline shopping does not have to take place separately from online. Harness the thirst for a new experience by combining physical and digital experience before buying a product.
One way to achieve this is through an online flash mob or challenge. For example, if the author of the famous #bottlecapchallenge were a soft drink brand, it would be a good sales engine.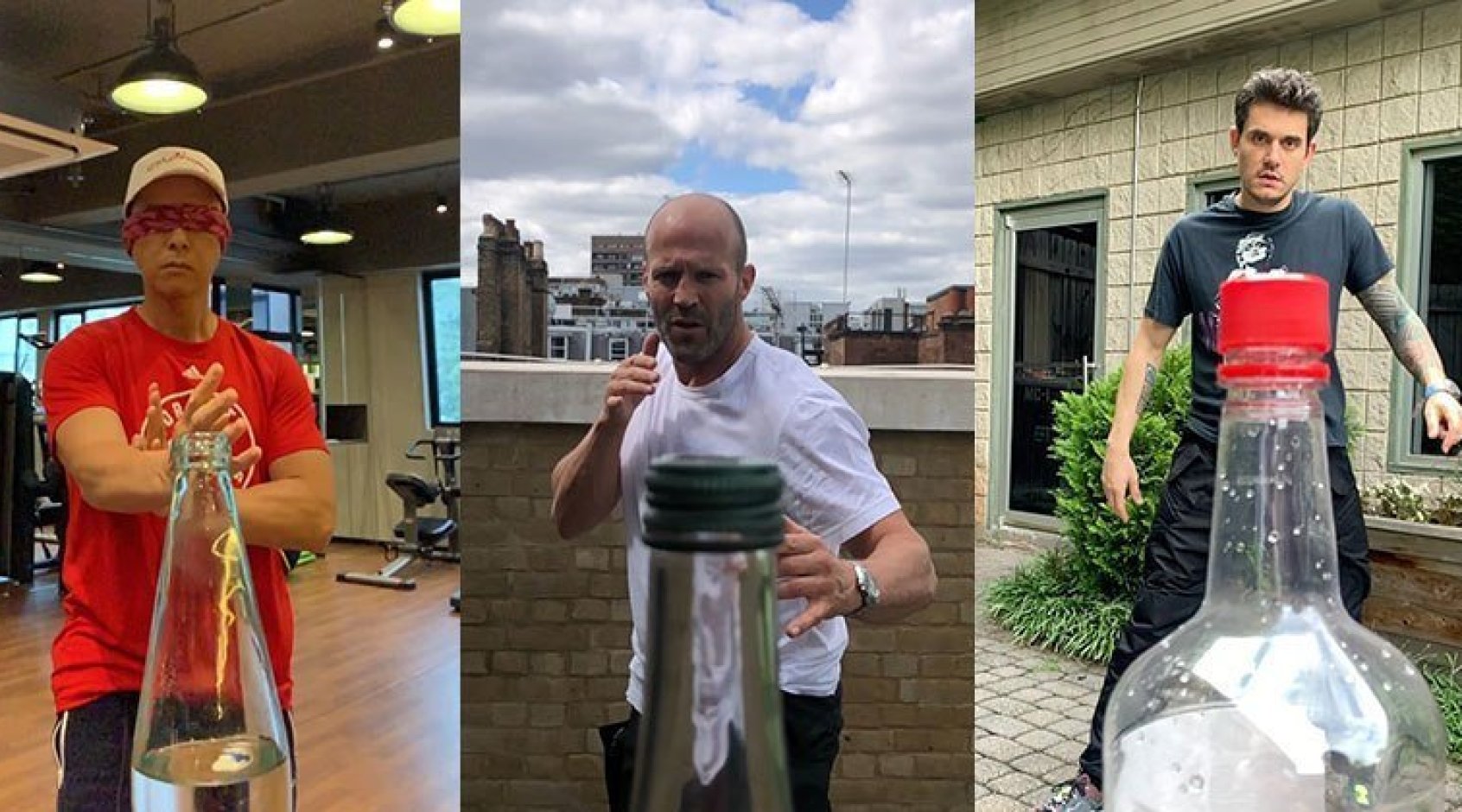 UGC
User-generated content (UGC) is another way to help Generation Z choose your product. Firstly, these are customer reviews in the store and on third-party sites. Secondly, this is any publication involving the product. Selfies in the store and with the product, original ways of using it - all this creates a sense of community around the brand. Young people value the opportunity to join a loyal interest group.

Step 4. After the purchase
Gamification
For gamification of interaction with customers after the conversion, you don't even have to launch your own application. Especially considering that the total consumption of games is reduced, and Generation Z is selective in the choice of programs for installation.
The fact of the gameplay is outstanding. It can be a simple personality test to collect customer data or a "quest" with bonus points.
Social networks
The SMM is an essential channel for maintaining the engagement of current customers. In particular, young people who spend at least 4 hours a day on the Internet, of which more than half are on social networks.
The content for the company's page should take into account the above features of the new generation. More videos, interactivity, flash mobs with unique hashtags, as well as branding and humanization of the brand.
Remember that youth is committed to supporting producers who are socially responsible. Ideally, caring for the environment should not only be part of the SMM strategy, but also an element of the company's mission.

Lucas Martley
13.12.2019
3918
0
0