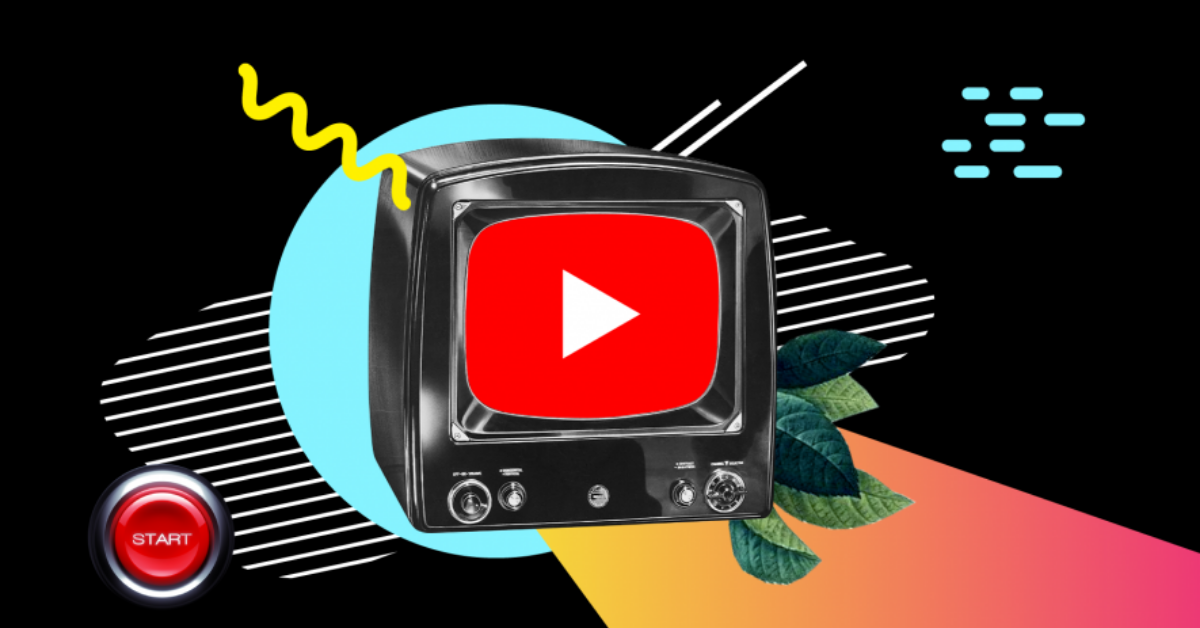 Video ads for sales growth: how to use YouTube to get conversions
We're used to the fact that search contextual advertising is better for identifying a warm audience and getting conversions. Indeed, when a person enters in the search "buy a screwdriver," obviously he wants to buy a screwdriver. This is the best moment to show him the ad.
The only question is how to identify such interested users and bring them to the site. Together with Google experts, Poprey Blog sorted out YouTube's tools for finding and attracting a "hot" audience.
Do not forget to view our service, which provides you with the opportunity to increase the visibility of your YouTube account by real people through likes, views, subscribers.

Is conversion video advertising real?
A couple of years ago, the phrase "conversion video advertising" raised many questions. The video was used mainly in the upper stages of the sales funnel to solve various marketing and business tasks:
generate demand
arouse interest,
attract attention,
increase brand and/or product brand awareness,
affect the perception and reputation of the company, etc.
YouTube has been and remains an excellent platform for this, since 83% of customers aged 18 to 44 visit video hosting, among which there are potential customers for any niche.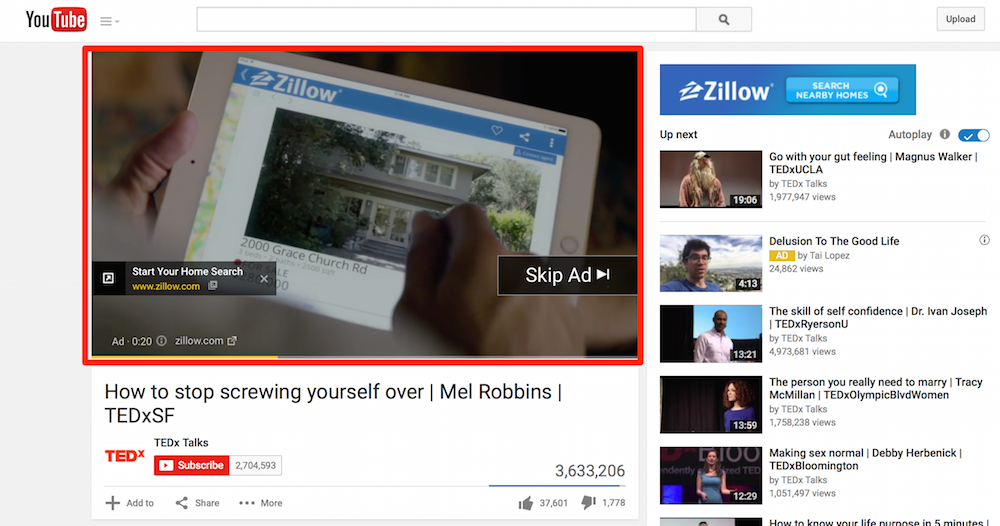 Search advertising is still a useful source of warm traffic. However, not all users who searched for a product in a search are converted immediately. There are several scenarios:
some go from advertising to the site and buy;
others open several sites — yours and competitors — to compare products;
others do not even get to your site.
At the same time, according to Google, more than 50% of people who searched for products and services in the search, turn to online video to get more information. This is the right moment to influence the decision to purchase and to change the choice of the buyer in your favor.
Indeed, often we have little text on the seller's website, a few reviews, and photos. On the Internet, you can't touch and test the product, but you can see how it works. And we go to watch video reviews of sellers and video reviews of buyers - on equipment, toys, travel, clothes. And, according to many studies, people prefer to watch it on YouTube.
Thus, not everyone will switch from advertising to the site, but most of them will come to YouTube. So, on a popular video hosting, you can find customers at the stages of comparing solutions, choosing a product and seller. And now, YouTube has the tools to solve these problems.
So how do you use YouTube to attract customers? First of all, you need to find hot leads - users with the most expressed intentions, interest them and convert them into a purchase, and then evaluate the effectiveness. Let us dwell on these three steps in more detail.
We are looking for potential customers on YouTube
YouTube is visited daily by millions of users. Among them, some plan to buy a new car in the coming month; some are in search of a birthday present for a child, and are seriously considering visiting a psychologist. By showing ads to such people, profile companies may very well count on conversion. But how to separate them from those who watch test drives, service reviews, videos about children and psychology just out of interest, and do not plan to buy anything?
Google receives anonymous signals of user intent from search, Gmail, Chrome, Google Maps, Google Play. With the help of machine learning, these signals are processed, and audiences of people who are interested in certain topics, products, or services are formed. Suppose a week ago, a person watched a test drive of a new Mercedes on YouTube, yesterday he searched for reviews in the search, and today he looked for the dealer address on the map. Google understands that the user obviously plans to buy a car, which means that car advertising will be relevant to him now.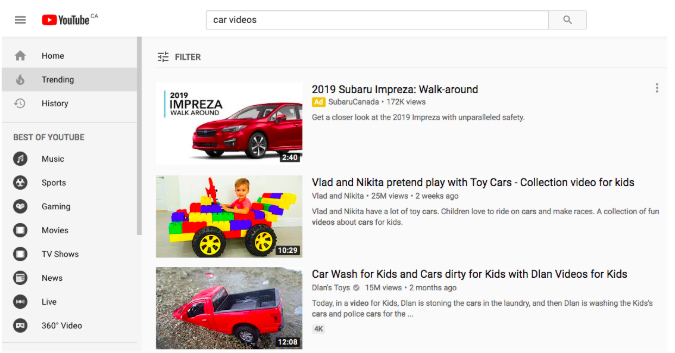 Advertisers can find the right audience and target their campaigns using audience targeting, which is divided into 3 categories.
Demographic targeting. It allows finding broad audiences, taking into account not only age and gender but also other socio-demographic characteristics, for example, marital status, education, and age of children.
Interest and habits targeting. Allow you to find and reach a broad audience of potentially interested users. With the help of signals from websites, Google forms the audience of travelers, motorists, gourmets, fashionistas - more than 100 categories in all. It is advisable to use these targeting in the upper stages of the funnel to attract attention and engage a broad audience.
Targeting by intent and action. It allows you to find people who are now interested in buying a particular product - they entered relevant queries into the search bar, visited competitors' websites, looked at YouTube product reviews and videos from the "how to choose ..." series, searched for company addresses on the map.
Targeting by intent and interest is best suited for conversions. When setting up a campaign on YouTube, you can choose from dozens of ready-made audiences - users who bought or planned to buy theater tickets, cosmetics, cruises.
You can also create your own "Custom Intent Audience." You need to carefully select the most relevant key searches, page addresses, mobile applications, and videos on YouTube for the people most relevant to people who are close to buying - only about 15 elements so that machine learning has more data. The system will analyze the behavior of those who visited these pages, entered requests and downloaded applications, and will collect an audience of users who are close in behavior.
Choosing the right ad formats
When we want to generate demand, arouse interest, or increase brand awareness, we need the advertising video to see as many representatives of the target audience as possible. When the primary goal of the advertising campaign is sales, it's more important not to spray the budget on those who still won't buy the product, and give the warmest users an easy and quick way to make the conversion. Based on this, to get conversions, you should choose a format that:

Allows you to skip the video to cut off users who are not interested in buying at the moment. Despite the significant amount of data and machine learning, you can not guarantee a one hundred percent hit. A person was really actively looking for a product or service, but by the time he saw your advertisement, he had already bought or changed his mind.
Stimulates actions - has the technical ability to place attention-grabbing CTAs and buttons to go to the landing page.
TrueView for Action format, which is specially designed to stimulate actions and receive conversions, meets these requirements. On YouTube, it is available in two variations: video player ads that appear before, after or while watching content (In-Steam with the ability to skip), and a preview of the ad with text in the list of related videos, search results and on the main page (Video Discovery).
Both placement options suggest that users who are not interested in buying will pass the commercial (in the first case, click "Skip," in the second they will not open the video), which means that the advertiser will not spend a budget on them.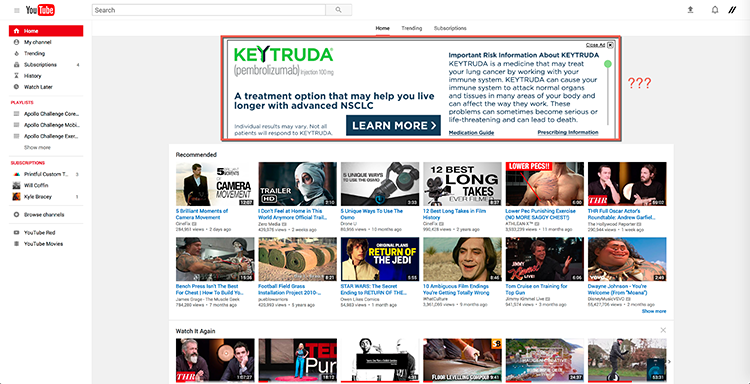 TrueView for action is a universal format for converting advertising that is equally suitable for developers, information businesses, law firms, beauty salons. There is a separate format for online stores and hypermarkets with an extensive catalog of products - TrueView for shopping. It is also focused on encouraging users to take action and getting conversions, but technically it allows you to place in ads up to 6 offers with a price and a button to go to the page of a specific product.
Integration with Google Merchant Center allows you to show products in dynamic tooltips for video ads. You can select specific products from the catalog or let the system automatically select the most relevant offers for a particular user.
Smart bidding strategies are available for ad formats to get conversions - optimization on conversions and maximum conversions.
In the first case, the advertiser sets the optimal conversion cost for the business. The system displays ads in such a way as to get the highest number of conversions within a given cost. The disadvantage of this method of bidding is that for sufficient work, it will take time to train the system and at least 50 conversions per week.
If this option is not suitable, or you don't know the optimal conversion price for your company, you can use the "maximum conversion" strategy. In this case, the system itself will set bids and distribute the budget to get as many targeted actions as possible. This strategy is easier to learn and has no limit on the number of conversions.
In both cases, you'll need to set up conversion tracking on your site so that Google Ads sees targeted actions and adjusts bids and impressions to improve performance.
We evaluate the effectiveness
In search contextual advertising, the ideal scenario is when a user clicks on an ad, gets to the site, and is converted. But this does not always happen. There are many different options for video ads on YouTube. In addition, unlike search advertising, here conversions occur not only after clicks but also after impressions and video views. Therefore, when evaluating the effectiveness of video advertising, it is important to evaluate all types of conversions:
cross-device conversions that occur between different devices of the same user;
conversions after impressions (when a user saw the start of the video and skipped it, and after that made the target action);
after the views (when the user converted by watching more than 10 seconds of the advertising video);
after clicks (when the user clicked on the site to the website).
Another feature of video advertising is the delayed effect. The user can watch the video today, and make a purchase in a week or even several months. Therefore, to evaluate the effectiveness of advertising on YouTube, it is important to consider delayed conversions. In order not to lose sight of users who are interested in the product, but postponed the purchase, you can track micro-conversions - the actions that a person takes on the path to purchase: filling out forms, subscribing to promotions and mailings, viewing information about payment and delivery terms.
Lucas Martley
15.12.2019
66410
0
0